World War II Play "Front" Coming to San Juan HIlls
"Feminist" theatrical performance set in World War II premiering November 1st at SJHHS
Hang on for a minute...we're trying to find some more stories you might like.
It is the year 1940; the food is scarce, the money is nearly non-existent, and the constant fear of losing one of their own fighting men is tearing families apart. The roaring bombs of the Blitz act only as a daily reminder to all women that their loved one could potentially never come home, and seeming almost as a nightly lullaby for all the children. While the men are fighting for their lives on the battlefield, women and their families are struggling to obtain a healthy and stable life at home. This is not a story of war, this is a reality of the struggling families of soldiers' during World War II, all taking place at the home front.
Front, (premiering November 1st), is an eye-opening historical drama during the time of the London Blitz in World War II. It showcases the home front of the war, and follows the lives of  London citizens and their struggle maintaining a normal lifestyle while the male figures of their family are off at war.
While the play is an ensemble, meaning that the actors and actresses perform together rather than individually, there are a couple prominent characters in the play who are showcased often. One of these characters being Judith, played by Claire Sandefur, a senior at SJHHS, is a Matriarch left to take care of her teenage daughter and younger son while her husband is at war.
Judith "has very strong morals" and "doesn't believe in the war or fighting the war" said Claire. The opinionated character is also said to "sabotage the war in a way" so that she can win her own battle to overall grant protection for herself and family.
The two other leading roles to expect in the show are Joan, played by Olivia Eiler, and Angie played by Lila Holley.
"It is really hard, actually, in the theatre industry, to find good work for women" said Beilstein. "We need more women playwrights out there."
"
It is really hard, actually, in the theatre industry, to find good work for women… We need more women playwrights out there."
— Cambria Beilstein
While the play is based more upon women empowerment rather than the war itself, men also partake in a great part of the show as well. "The men being away drive the women to succeed" said Beilstein.
As well as this, Beilstein doesn't fail to mention how the play is "Pro-soldier; anti-war" to make sure that great gratitude and recognition is given to the men who fought in the war, all the while still obtaining the storyline of a play based upon women.
The record-breaking musical showcased last year at SJHHS, Les Miserables, was described as being "very male heavy" said Ms.Beilstein, thus being the reason why she decided to showcase a play this year featuring women. With an even higher budget for Front as opposed to the other plays and musicals including Les Miserables, we can expect nothing less than a thrilling performance from this play as well.

About the Writer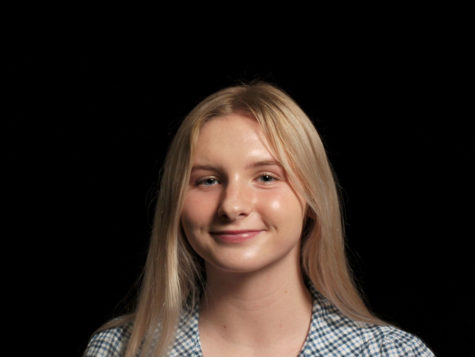 Eva Smedeby, Staff Writer
This is Eva Smedeby's freshman year in high school as well as her first year writing for The Express. She is very excited to be apart of the newspaper staff and hopes to make some great memories throughout the Year. Outside of school, she enjoys reading, writing, and playing guitar. She is also part of the club volleyball team in San Clemente and is planning on joining the track and field team later on in the year. She is more than hopeful that this class will help her to grow as writer and will be used as a learning experience to use later on in her years at SJHHS.