New Upcoming Band is More Than Just a Dream
Hang on for a minute...we're trying to find some more stories you might like.
The early 1990's rock and punk scene boasted a large number of up and coming bands that would bring new refreshment to the turn of the decade. The contributing sound of bands like Green Day, Nirvana, Soundgarden, and so many more curated a new influx of diversity underneath the rock genre umbrella. Rock was not a single genre anymore, it became a broad term for multiple ones. With it came alternative rock, punk rock, metal, ska, and so many more different subsets of a broad category following the 80's.
The iconic redefinition of music in the 90's and its even greater array of new genres yielded so many successful bands with strong musical support behind largely remarkable frontmen. A great example of this was pop punk band No Doubt who quickly pushed their way to the limelight armed with an unusual discography of odd, yet engaging light pop and punk inspiration behind famed vocalist Gwen Stefani.
Rather on the other side of the rock spectrum, punk rock band AFI was gaining ground with an approach of dark punk alternative style. No Doubt consisted of a sophisticated backing band behind lead Gwen Stefani's candid talent, while AFI consisted of simplistic punk rock backing, lead by the energetic Davey Havok.
As time went on for both bands, No Doubt thrived and eventually acted as a springboard for Stefani's solo career while AFI pushed on through many years as pop music became the focal point of the early 2000's music scene.
Havok has kept AFI live to present day, however has engaged in side music endeavors multiple times. Years after the rise of these two bands, 2014 saw the unification of an unlikely quartet.
The backing members of No Doubt–bassist Tony Kanal, guitarist Tom Dumont, and drummer Adrian Young all united to create something new. Their minds together behind a powerhouse frontman ideally would yield a rebirth of their new musical ideas uniquely among the 2010's scene.
The trio found their lead vocalist in the multi-talented Havok. Kanal revealed in a Rolling Stones piece that finding Havok for Dreamcar was hugely beneficial to their ideas,
"[W]e knew Davey from the music scene, and seeing his bands play. Back in 2012, his band Blaqk Audio supported No Doubt…he was incredible; he's an incredible frontman, one of the best…We sent him the stuff we'd been working on…and in a few days we got back these ideas from him, and it was like…'Wow, we need to keep exploring this!'"
The newly founded quartet went on to write music under secrecy while writing a debut record under their new signature name "Dreamcar." Their musical debut occurred on March 2, 2017 on the Kevin and Bean show on the famous radio channel KROQ when their first single "Kill for Candy" first debuted.
The single premiere played into the exposition of the "supergroup" and their style. The song opened up their vision with its engaging opening guitar hook and present bassline, the track is pervaded by a 80's influence. When Havok's vocals enter with effect, the song blends into a prominent lead track balanced in all instrument aspects including adept percussion throughout.
The group then went on to release three more tracks off their self-titled album Dreamcar before its May 12th release. In total, the public would get to listen to "Kill for Candy," "Born to Lie," "All of the Dead Girls," and "On the Charts," in pre-release. With the release of these tracks, the band's identity became clear, they were an upcoming standout force to be reckoned with with their skillful songwriting ability and unique new wave genre appeal.
"Born to Lie," one of the first released tracks exemplifies the talents of the band greatly, Havok's vocals shine in front of a background of web of intertwining instrumental talent. Percussion blends with bass while guitar falls in line with well-executed synth effect. The group's lyricism throughout the four leading tracks plays in conscious almost opposing fashion to their relative sound.
The twelve track album flows with expert execution starting right at the opening song, "After I Confess" plays with particular appeal as Havok flaunts his vocal range in an overall satisfying open for the album. It then moves on to the section of the popular "Kill for Candy," mystical "Born to Lie," the emphatic "On the Charts," and onto the ironically lively sounding "All of the Dead Girls" that ties off the initial releases that beginning fans found likeable.
From there, one can come to enjoy the catchy "Ever Lonely," the punchy chorus of the "The Preferred," and the inquisitive "Slip On the Moon." The album is all tied together by the melodic "Don't Let Me Love," the light "Do Nothing" ending with the contented "Show Me Mercy."
Kanal brings effective basslines that pushes through background noise consistently across the album. Dumont's skill on guitar is present with operative effect alongside Havok. Young's percussion resonates with great reverberation that reflects the overall 80's vibe of the album almost without flaw. Havok brings the project together topping excellent instrumentation with masterful vocal capacity that weaves an altogether captivating masterpiece.
Havok's vocals deliver lines like "I sat in the church so I might pray to remain set in my evil ways," "Boys that leave good scars, love girls on the charts," "All the dead girls love me, why can't you?" or "I watch you tearing the place apart, tell me if you see my heart," all while the Kanal, Dumont, and Young trio back these mused lyrics with an upbeat deliverance of enthusiastic support instrumentally throughout the record.
The musical chemistry of the group soars above their reputations, this is not a blend of AFI's edge with twists of No Doubt's style, it's entirely its own empowered entity in a separate genre. This four piece's creation champions singular talent saturated in current new wave excellence.
Dreamcar is a formidable proponent of musical freedom coming up in the music industry, they are a group that has large potential to go down as top alternative genre brilliance of 2010s music's most excellent.

About the Writer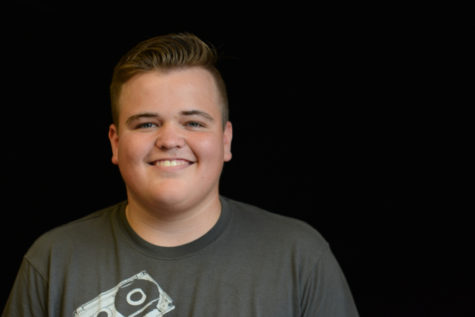 Kaden Brown, Photo Editor
Kaden Brown is currently a senior and this is his second year on The Express staff. Kaden is excited to return this year as the Photo Editor. Kaden has a passion for music and photography, and he applies those in the frequent attendance of concerts and live music events. Kaden enjoys hanging out with his friends...