If the Shoe Fits
Inside Look on How Shoes Compare to Personality
Shoes are a reflection of a person, and they can showcase who a person is, and what they have experienced. And different types of shoes correlate with different types of people.
A study published in the Journal Research of Personality had 63 University of Kansas students judge pictures of 208 different pairs of shoes, who were then asked to give educated inferences on the person wearing those shoes.  The lead researcher, Omri Gillath, said, "Shoes serve a practical purpose, and also serve as nonverbal cues with symbolic messages. People tend to pay attention to the shoes they and others wear."
Shoes, therefore, create social cues and assumptions about a person's personality, age, gender, hobbies, etc.  It can be further analyzed that these newly created "symbolic messages" display who a person is, or who they think they are.  And like shoes, there are millions of variations of people and messages they can possibly convey.
High school students are the most assorted kinds of people; they are diverse and still in the process of discovering their true selves, all the while in an isolated community (school). So, it is only natural that the different types of shoes in high school, and those specifically of SJHHS, are just as diverse as the students who wear them.
As one could have guessed, spunky, easygoing surfer Meg Roh (11), who likes to "take long walks to [her] fridge" and goes on "spirit quests", ecstatically said that her favorite shoes to wear are "Birkenstocks of course! They're equally comfy and great for adventures of any kind.  It's about time we brought back the female version of mandals [man sandals]!"
As for other students, like Calla Chung (10) who enjoys many things like cooking, singing, and discovering new music, the shoes they wear each day reflect their varied activities.  Since people like Calla are not tied down to a certain interest, her style is not definitely defined in comparison.
Chung described her style as "versatile", and further said, "I love dressing how I feel! I don't like to be confined to one 'style.'  Sometimes I look classy and sometimes I look like a homeless grandpa.  It just depends! This just means I can adapt to all kinds of situations and get along with all sorts of people!"
The same lax philosophy is adopted by Senior Devyn Madrid (12), who said, "I am usually more laid back if it's nice weather and just relaxing that day, or I like to dress semi formal if I'm going out at night," also adding that shoes "really are the cherry on top of outfits," and that "coming from a private school to public, I have been able to really shape my personality through clothes."
This neutral attitude is common in high school students, who are still experimenting in their own personal styles, and specific styles and confidence in oneself are sometimes rare. However,  these uncommon attributes are found in the unique personality of  Braeden Schmitt (11), who can be seen roaming San Juan Hills in suspenders, red tie, dress clothes, and black dress shoes that mirror his individuality and passion for music and literature everyday.  
He said that he believes shoes are "a way of expression," adding that he considers himself  "as an honest, open, gregarious, and happy person who is doing the very best to improve consistently everyday," and he attempts to express his personality in the formal way he dresses.
His poise is clearly displayed in the "jazz-age"-themed attire he showcases around campus, furthermore proving how shoes (as in Schmitt's formal apparel) convey a particular, often intentional, message that fits one's persona and clarify the difference between individuals through personality traits and tendencies.
About the Writer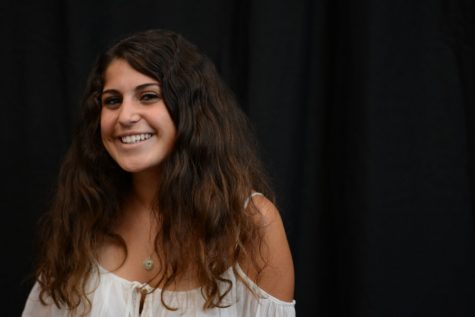 Mia N. Jones, Sports Editor
This is Mia's second year on The Express, and she is beyond excited to be a part of such a fun program her senior year! Mia plays on the Varsity lacrosse...