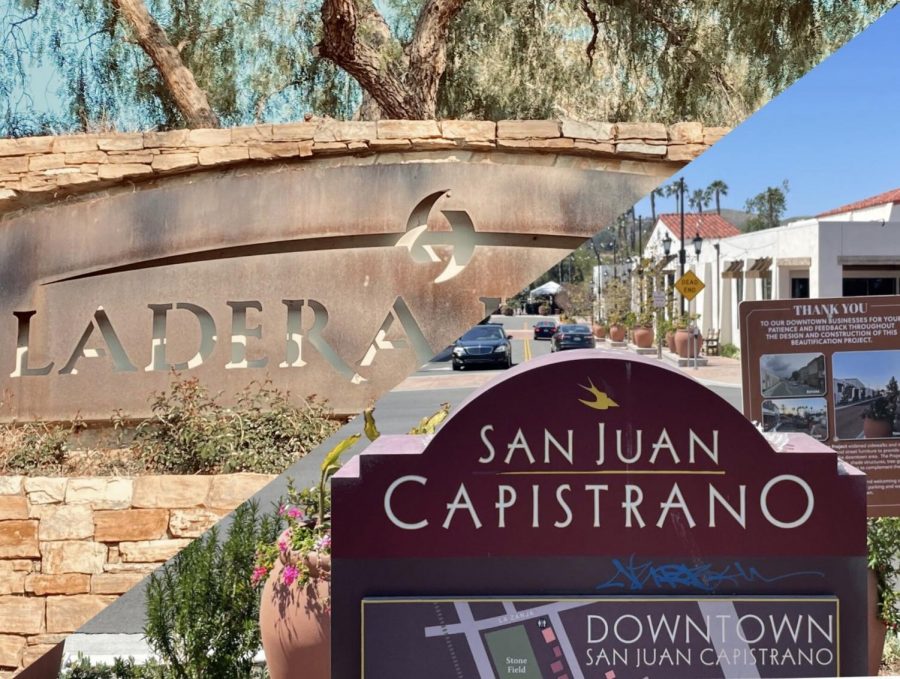 San Juan Capistrano Vs. Ladera Ranch
April 1, 2021
San Juan Capistrano: An Exciting Blend of New and Old
San Juan Capistrano offers the perfect mix of old town culture and contemporary amenities. Downtown is home to beautiful scenery, rich history, and many unique restaurants. 
Being the oldest residential street still inhabited in California, Los Rios Street was quite literally the start of California, and the epicenter for activity in San Juan. Buildings on the street date back to 1794, of the 40 homes still remaining, three are original adobe structures. 
Los Rios Park is one of the most visually appealing parts of the town, with a butterfly garden home to a multitude of native flowers and fauna. There's also a playground and eating areas nearby for families to enjoy. 
Trevors at the Tracks is right on the train tracks that run through San Juan, and is located in one of the very first buildings built in the Mission Revival Style. The building has also been known to be one of Amtrak's most unique depots in Southern California. The restaurant is the perfect lunch spot when exploring downtown, often offering live music and always boasting a fresh menu.
"
San Juan offers various shopping options, ranging from the old Antique Barn, where you could find anything if you looked hard enough, to Wildfire Mercantile, which embodies the western culture of San Juan. "
El Adobe Restaurant is one of many buildings in San Juan to be a California State Historical Landmark, with its oldest sections dating back to 1797. The basement even used to be the town jail starting in 1812, and 200 years later the oldest jail cell in California is now a dining space.
While Ladera may offer a drive-thru Starbucks, it pales in comparison to the beverages at Hidden House Coffee on Los Rios Street. Los Rios even has its own petting zoo, Zoomars, with animals ranging from ponies, bunnies, and even an emu. 
The Swallow's Inn is synonymous with San Juan, as a town favorite its quirky and energetic atmosphere embodies the heart of San Juan culture. Bad to the Bone BBQ is the place to go for hearty, authentic barbeque and a lively atmosphere. 
One of the most lively and unique traditions of the town is Swallow's Day, marking the return of the Swallows bird to the mission after their winter stay in Argentina. Every year the town holds a parade displaying the western and Spanish traditions and cultures of the town, all dedicated to welcoming the birds home. Celebrations are held all over town, with crowds lining the streets to see the parade and enjoy the food and festivities provided by the many restaurants and retail centers. 
San Juan offers various shopping options, ranging from the old Antique Barn, where you could find anything if you looked hard enough, to Wildfire Mercantile, which embodies the western culture of San Juan. 
The Mission San Juan Capistrano is a major historical site of its own, being first established in 1776, it continues to be the center of the town to this day. Parts of the original church are still standing, and its ruins are located in the gardens throughout the entire complex. The Mission is a beautiful location for learning about the town's history while touring buildings replicated after the original designs from hundreds of years ago. The Mission Basilica is an exact replica of the old stone church, just bigger to accommodate all of its new members. 
The brand new Inn at the Mission is the culmination of the blend of the old mission style and modern amenities. The four star Marriott hotel is within walking distance to the Mission and downtown, and offering restaurants and even a spa. 
The western horse culture of San Juan would not be complete without its most important equestrian center, the Shea Center for Therapeutic Riding. Its mission is to help those affected by a wide range of disabilities through therapeutic riding focused on dexterity and sensory integration. Its client base ranges from children with autism to military veterans, all of whom benefitted from their lessons. 
San Juan's culture of blending its old history with modern installations make it one of the most unique and entertaining places to be in Orange County, as well as superior to Ladera Ranch.
View 1 Comment
Ladera Ranch: Where the Grass is Greener
Ladera Ranch for 22 years has brought in over 26 thousand residents because of its beautiful landscaping, great schools and facilities, and overall sense of community. 
Perhaps the most noticeable aspect of Ladera is its beautiful landscaping. Ladera Ranch has over 49,000 trees, excluding private yards. This is twice as many trees as the famous Central Park in New York City.
Walkways wind through neighborhoods and lead to open parks and picnic areas where families can play, hang out, and enjoy the scenery. The wonderful landscaping is all thanks to the landscaping crew and the Ladera Ranch Maintenance Corporation (LARMAC).
All along these walkways, trash cans and dog-bag stations are always available so that the area can be kept clean. These walkways are also away from streets so kids can safely play without worrying about oncoming traffic.
"
These places make Ladera a wonderful place to hang out at and enjoy, but what makes Ladera Ranch a great place to live is it's sense of community."
Apart from the public parks, Ladera has many amenities available to its residents such as clubhouses, pools, and community gardens available all year round to enjoy, as well as a water park during the summer months.
Because Ladera Ranch is surrounded by open spaces, there are many trails for beautiful natures walks and view of the sunset over the hills. 
In the downtown area, there are many stores and restaurants to hang out at. You can have a refreshing bowl of poke at Poke Bowlz, enjoy a nice latte and avocado toast at Lola's Cafe, shop around for clothes at A Touch of Jane, or just walk around to enjoy the many other shops and eateries in Ladera.
These places make Ladera a wonderful place to hang out at and enjoy, but what makes Ladera Ranch a great place to live is it's sense of community.
Ladera Ranch has a farmers market every Sunday from 9am to 1pm where you can support local farmers and shops.
Also, every year various events are organized such as the Fall Festival or the tree lighting. The largest event of these events is the 4th of July festival which happens every year and includes a live band, food trucks, and a large firework show after sundown.
These events are put together by the Ladera Ranch Community Services (LARCS) who work to organize community events, organizations and clubs, Ranch Hands, the volunteer program for Ladera, and various other activities. These groups help to make Ladera inclusive and welcoming to all its residents.
It is important to address that Ladera Ranch has had events in the past that have defaced it's sense of community for some, most recently the hate crimes against an Asian-American family.
These acts are horrible and are certainly something that should be acknowledged. However, the community of Ladera responded by setting up a watch to protect the family from the nighttime assaults. 
While this does not erase the harassment and hate that was given, it does show how Ladera is a true community that cares about its residents safety and security. The recent Lantern Festival was a massive success in bringing in awareness and to show support to the victims of the hate crime. 
Overall Ladera is a wonderful place to live with it's beautiful landscaping, vibrant downtown area, welcoming community, and  unbeatable feel of home.
Leave a Comment