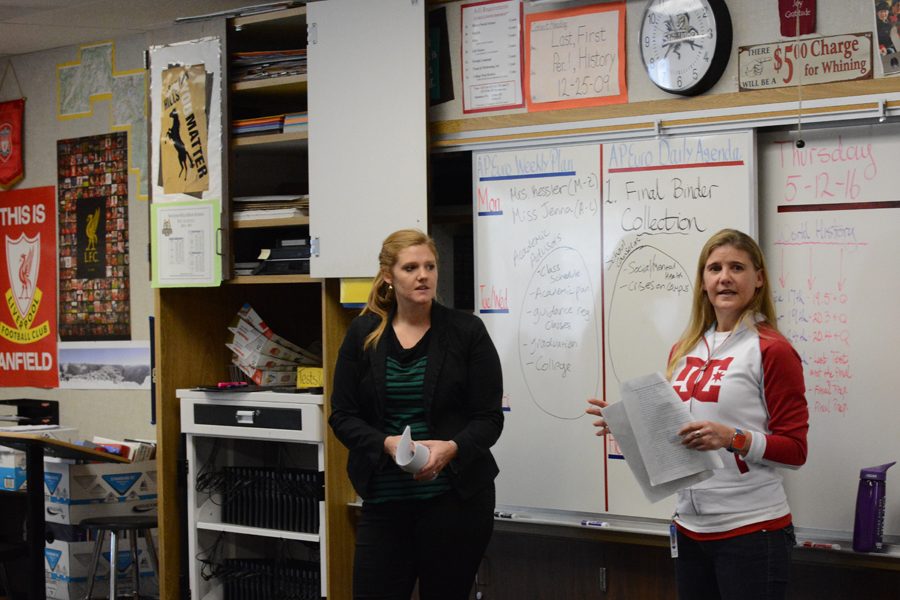 Suicide Prevention Program Started
April 1, 2016
In 2013, 17% of high school students seriously considered committing suicide, 13.6% of high school students made a plan to commit suicide. Among 15-24 year olds, suicide is the number 2 cause of death after unintentional injury, according to the Centers for Disease Control and Prevention.
Last year, when middle and high school principals were asked what they would want to use an expanded budget, they responded that they would like to see a bigger focus on mental health issues, according to Jennifer Smalley, SJHHS Principal.
Beginning in February, CUSD began a suicide prevention/awareness program called Signs of Suicide, or S.O.S. The program aimed to reach SJHHS sophomores through their their World History classes. AP European History classes will hear the presentation after the AP tests. Eventually, all students will be reached.
The goal of the S.O.S. program is to educate students on the prevention of suicide such as what to do if someone is considering it and provide information and offer help to those dealing with suicidal thoughts or know someone who is.
Recent hiring of new counselors districtwide is allowing CUSD to implement the program more effectively. It has been a CUSD School Board policy for a long time, but lacked enough counseling staff to implement, according to counselors.
San Clemente High School began the program first, according to Jenna Jordheim and Kasey Kessler, the SJHHS counselors who made visits to world history classes at SJHHS (see side-bar below).
A handout was given at the beginning of each presentation to explain "a few ways to help yourself," said Kessler. This document lists 25 ways to calm down when you're feeling stressed.
After discussing the document, students were asked to complete a short true/false quiz on the facts and myths of suicide and depression, to educate students on the facts and myths of suicide.
The quiz and discussions dispelled some myths about suicide and reinforced the idea that talking about it doesn't cause suicide, and that suicide is an escape from depression and depression is treatable.
During the presentations Jordheim and Kessler interacted with sophomores, giving them surveys, having them picture and define depression, and watching a video on what to do when someone close to you is showing signs of depression and/or suicide, showing first the incorrect way and then the correct way of addressing the scenario.
Many things can act as triggers for depression, including loss, failure, rejection, bullying, humiliation, and other trauma. Males are 4 times more likely to commit suicide than females. Gay and lesbian adolescents are 4 times more likely to commit suicide and transgender teens 8 times more likely, according to the Trevor Project.
The presentation concluded with ideas of how to help peers and how to correctly approach those who are suffering and emphasized never "making deals" with those considering suicide to keep it a secret.
Every student was required to fill out and turn in a form asking whether or not they would like to see a counselor to get help. If a student were to get help, the counselor would only have to report the student if he or she were: hurting them self, harming someone else, getting hurt by someone else, or committing a major crime, otherwise what is shared is confidential.
Counselors Jordheim and Kessler hope to improve the mental state of students who struggle with depression and/or suicide. The SOS program will not only help those with mental illnesses, but also help those who know someone is struggling with suicide and depression.
Sophomores will also be given information on how to respond to friends and family members who are going through depression, information that was not easily accessible prior to these presentations. Text-a-tip, suicide hotlines, and pamphlets were all given to the students.
"The students were very attentive and respectful," said Jordheim.