A Year of COVID
December 14, 2020
Doctors Give Insight on Covid
Local medical professionals seek to inform the public amid pandemic uncertainty
The COVID pandemic has put hospitals in a unique and challenging position, as first responders navigate a disease that is new to the medical world.
COVID has infiltrated our society, particularly affecting the medical system. Doctors and nurses around the nation are working around the clock to treat the large amounts of COVID patients that are being admitted daily. There are currently about 100,000 Americans testing positive for the virus each day. Around 20,000 of those are being admitted to hospitals weekly. 
"Sometimes things just turn really bad really fast. If you have a high fever, if you have any symptoms that are a little bit more than a cold, that's when you should call to see if you need to go to the ER," said Anne Hughitt, nurse practitioner located in San Diego. She cares for patients and helps determine if and when an individual should be admitted to the hospital. 
"
Stakes are high with patients and their family members. But this is the first time that I've actually had to go to work and even have some concern for my own safety."
— Dr. Joel Katz
The massive spread of COVID and the lack of knowledge regarding the virus has created a sense of fear in the medical community. Medical workers are concerned about effectively treating patients and avoiding contraction of the virus themselves. 
"Work can be busy and stressful just because you're taking care of patients when they're in the hospital, and they're sicker than usual. Stakes are high with patients and their family members. But this is the first time that I've actually had to go to work and even have some concern for my own safety," said Dr. Joel Katz.  
Dr. Joel Katz is a physician and internal medicine doctor at Hoag Hospital in Newport Beach. As an attending physician, or inpatient primary care doctor, Katz cares for admitted persons until they are discharged. 
"It's been a new experience taking care of patients with COVID, being more cautious using PPE in general for every encounter in the hospital as well as using specific types of PPE and extra precautions for known COVID patients," said Katz.  
Hoag Hospital reached its peak of positive COVID cases a few months ago, with an infection rate of 20 to 25 percent. Of those who are currently being examined, about 11 percent are testing positive for the virus. This number is gradually increasing as the nation transitions into the winter season. 
Many hospitals across the country are reaching patient capacity, leaving little to no room for new patients. Hoag Hospital in Newport Beach is fortunate to not have reached maximum capacity. But that's not to say that it isn't happening for other hospitals in the area. 
"There are definitely other hospitals in Orange County that are in worse shape and are at or closer to nearing capacity. It's hard to estimate when that could happen and if it'll happen. Hopefully it won't, but obviously that's a big moving target and just depends on how the fall and winter goes," said Katz. 
There are currently just over 2,000 people testing positive with COVID daily in Orange County. It's important that people take extra precautions to reduce the spread of COVID, especially as the holidays approach when people would traditionally be traveling and gathering with friends and family. 
"When you go out in public, you should wear a mask. You should wash your hands or use alcohol wipes frequently when you're not in your home and you're doing things. In general, travel is difficult right now. Going to places where you can't socially distance and you could bring the virus from one place to another. I think that that's something definitely that has been advised against as well," said Katz. 
To protect each individual, it is important that people follow the implemented guidelines put out by the government and comply with any stay-at-home orders.
"Think about how you can make sure your loved ones can be here for next Christmas. Because if you don't, they may not be there for next Christmas," said Hughitt. 
Compliance of the safety restrictions is necessary: protect your loved ones, reduce the spread of COVID, and ensure the recovery of our nation.
Reopening Plan Causes Shifts in Work Locations for H.S. Teachers
Pandemic forces some teachers to move online, others to transfer to entirely new schools in CUSD.
From learning difficulties to internet troubles, online learning has been difficult for many students who've opted to remain online; however, they aren't alone in their struggles. Some teachers made the decision to continue teaching fully online while others were forced to completely move schools.
Many of these teachers have chosen to stay home due to pre-existing conditions or their families physical health.
"I had underlying health conditions that put me at a greater risk for serious complications from catching the virus," said AP Environmental teacher Emily Price.
With decades of experience teaching in-person, making the commitment to teach online for an entire year was a tough choice, especially for teachers who had little technological knowledge prior to the pandemic.
"I knew that I needed to reduce my contact with others so the choice was clear. I also felt confident that I would be able to successfully teach 100% virtually," said Price.
During such turbulent times, some teachers were forced to make the transition to a new school. P.E. teachers, and some elective teachers, were involuntarily transferred to teach in CUSD's extended learning program in elementary schools.
The program allows for smaller class sizes in those schools by having morning and afternoon classes. The students who are not with their teacher can opt-in for the extended learning portion of the day, which needs supervision from teaching staff.
But the idea comes at a price. High school students lose electives and P.E. opportunities.
Ryan Norgren, digital photo and yearbook adviser, now teaches only one section of digital photography. He used to have four. A school board policy revision about graduation requirements decreased demand for art electives in high school and facilitated the shifting of staff to elementary schools.
"Now I'm a 5th grade paraeducator in an outdoor classroom under an easy-up responsible for 20 5th graders to ensure they complete their Canvas tasks," Norgren said.
Many of these teachers were informed last-minute with very little time to prepare for their transfer to a completely new school.
"I received a phone call 2 weeks before school started to inform me that the district was transferring me to elementary school. It was a mandatory transfer; it was not optional. I have taught in this district for 12 years, and I have never had this happen to me before," said former Ceramics teacher Krista Rodriguez.
Being told with only two weeks until school started that she needed to transfer schools was understandably very frustrating.
"To be honest, I was very angry when I received the phone call, and I wanted to cry. I was so upset. I have been teaching high school art in CUSD for 12 years, and I really enjoy my job. I had been looking forward to seeing the students at SJHHS. I had worked all summer to write new art lessons in Canvas to prepare for distance learning. I had also spent many hours working with other high school art teachers to prepare to teach art with all the new COVID guidelines. I had spent my whole summer preparing for a job I no longer had," said Rodriguez.
Thanks to previous experience being an art instructor in a K-8 school, Rodriguez had some knowledge on her new position. 
"When we first returned to school in person, I worked as an Extended Learning teacher for 5th grade students. Students in elementary spend part of the day with their classroom teacher and part of the day with an extended learning teacher," said Rodriguez. "[The students] are learning all about the elements of art, art from different cultures and time periods, and different artistic techniques."
While not completely foreign to Rodriguez from her work at SJHHS, she was still required to write entirely new lessons under such short notice.
"It's hard to do a good job teaching when things are constantly changing. I wasn't told which elementary school I'd be at or what I would be teaching, until a couple of days before school started. Very stressful. COVID guidelines keep changing as well, so it's a lot to keep up with. There have been so many obstacles, I can't even list them all," said Rodriguez.
Even after this school year comes to a close, it's not a guarantee that Rodriguez will make a return to SJHHS.
"At first, the district told me that I would just be at Oso Grande for the school year, but recently the superintendent sent out an email saying that state and county officials expected things to continue like this at schools for the next 12-18 months. So it looks like I will probably be at Oso Grande next school year again," said Rodriguez.
The transitions that these teachers have had to make in little less than a year is unfathomable. From quickly adapting to a new way of teaching to adjusting all of their old lesson plans and even needing to switch to an entirely new school, these teachers have managed to both overcome all of these obstacles and thrive.
"SJHHS teachers have put in multiple hours during the school day AND beyond, learning a new management program and (for some) new textbooks," said Kristen Osborn.
"Many of our students have adjusted from learning in the classroom to learning from home," said Osborn. "All of this has presented unique challenges, but nothing that we have not been able to work through and problem solve."
Staying Home, Staying Safe
With the increase of COVID-19 cases and Orange County entering the purple zone, many individuals are making the switch from hybrid to fully online school, arguing the many benefits of this transition. 
In a student's life, one of their most important focuses is grades. After the mandatory quarantine in March, when everyone experienced the new way of online learning, several students discovered that they preferred the online method of school, regardless of the COVID conditions. 
Once hybrid-learning started, many who started off in hybrid quickly learned that online was the way to go; they could pay more attention, get more sleep, and have more study time in between classes. 
"I definitely prefer online. Mainly because I can just spend the whole day in my pajamas and I can skip a few steps in my morning routine. Another benefit is that I get more sleep. And since I'm very comfortable in my room, paying attention is much easier because there's not too many distractions. Because of this, I'd say I'm a better online learner," said sophomore, Luke Loftus. 
Virtual school is preferred by students mainly for the many benefits relating to their time and work ethic, however there are also many individuals that choose to stay home in order to keep their family safe and healthy.
"
It has definitely been rough for my family not going anywhere or seeing anyone, especially since it was all so sudden, but we are getting through it and have hope for the new year,"
— Locke
As many students live with or very close to their grandparents, right now is a very important time to make smart and responsible decisions. Because elders are even more at risk when it comes to contracting COVID-19, many students are doing everything they can to make sure their grandparents aren't exposed to the CoronaVirus. 
"My family is super lucky to have my grandparents living walking distance. My grandparents are grateful to be strong and healthy, but we still wouldn't want them to get sick. Because my grandparents are with us, staying online limits the people I see, just to be on the safe side," said Taylor Schmidt, a junior at SJHHS. 
Many other families also have medical reasons that make the decision of going all online fairly easy. Sophomore Carina Locke has been doing virtual learning from the very beginning of school, a decision made to confine in her mother's health. 
"
Because my grandparents are with us, staying online limits the people I see, just to be on the safe side,"
— Schmidt
"My mom's immune system is compromised so my family did not want to risk anyone getting the virus, who could give it to my mom. We have all been home since March, the only time we have really left was to go to the doctors' office one or two times and maybe an occasional fast food run. It has definitely been rough for my family not going anywhere or seeing anyone, especially since it was all so sudden, but we are getting through it and have hope for the new year," said Locke. 
So yes, it's simple to transfer to online school to accommodate for personal benefits like better sleep and wearing pajamas all day, but it's crucial to keep others in mind and realize that many students don't have a choice and this pandemic is not something to take lightly. 
"I would say that if everyone were to follow the guidelines and wear masks, COVID can be over quicker and everything can go back to normal faster. But, nothing will return to normal if people are not doing as they should to protect others as other people are taking their time to protect you," said Locke. 
Coping As Best They Can
"The fear that surrounds COVID is not paranoia, it's precaution. There are people who say that they don't have a healthy fear of this virus, and they choose to ignore basic safety precautions like mask wearing in public, but that's not bravery — that's a lack of decency. We need to choose to care about each other," said Queer Alliance club advisor and English teacher, Danielle Serio.
That fear can only be compounded for teachers and front line workers, who have to grapple with the serious personal effects of COVID on their personal and professional lives. Teachers across the district have been forced to deviate from their traditional work practices, like many of us have. However, they have been placed in a unique position of having to keep a class engaged, regardless of whether it is through in-person learning or through video conferencing. 
"Any kind of change is stressful, and this year has been a smorgasbord of it. All of my favorite parts of teaching — leading enthusiastic debates and helping students find their voices in real time — those have been subbed out for largely silent Zoom classrooms and a lot of extra grading. It's hard to find the joy right now," said Serio. 
Teaching in-person can be a daunting task, especially if teachers are immunocompromised or have family and friends in their inner circles that they could be putting at risk. 
"Basically, once I knew I'd be forced to be back on campus and in contact with students, I had to make the decision to stop seeing my extended family. My brother recently received a liver transplant, so he's immune-compromised. He lives with my parents who are older, so it's incredibly sad that I can't see them for the foreseeable future," said English teacher Katie Wegner. 
Serio saw the damaging effects of the virus firsthand, as her father contracted the virus in June, and her partner's father was in the ICU because of COVID. This, as well as the rising case numbers were worrisome to her, especially when the transition to hybrid learning was announced. "Early on, we didn't know what school was going to look like. The OC Department of Education was trying to advocate for full classrooms and no masks because young children didn't experience severe symptoms at the same rate as adults, ignoring the fact that children can still spread the virus to their families and teachers without the right precaution," said Serio. 
Coming back to teach with other people, who may be exposed to the virus through their after school activities can feel very threatening to teachers; however, some of that fear is beginning to subside.
As the number of students who are doing the hybrid model has started to decrease, many teachers have begun to feel safer in their environment. Many have taken extra precautions to keep themselves safe, such as Serio who keeps an air purifier in her room. 
The constant adaptation to this virus has been emotional for many, particularly for those who are at constant risk of exposure in their professions. 
"I'm an optimistic person, so I want to be encouraging and appreciative. I'm just not sure how anyone navigates in a perfect manner under these circumstances. It is tough to hear that the district makes every effort to offer options to families (as in an all online option) but the same doesn't hold true for its employees," said Wegner.
Fortunately, teachers have found support through the process, if not through the district but through each other.
 "My colleagues have formed a wonderful support structure for one another over this whole process, and I feel incredibly lucky to be working with the teachers on this campus and in my department through one of the most challenging times of my career," said Serio. 
"Prepared" is not a super accurate word for how most teachers felt as we transitioned our carefully-designed curricula to a format they were never intended for. I'm craving consistency, but adaptability is the name of the game now.
Quarantining Together
A San Juan Hills High School family describes their ordeal with Covid-19, how they managed an their advice to others to avoid the same predicament.
Sophomore Riley Croy and her family were one of the many at San Juan Hills that experienced the effects of COVID-19.  Despite her family being socially distanced and wearing masks prior to the infection, the Croy family still contracted the virus.
"I basically only left the house to go hiking with my dog and go to the grocery store with my mom. The whole family social distanced, used masks, and followed the rules . . . We have no idea where we got it from because that week specifically we had only left the house to grab groceries, we just watched movies and had a calm week," said Croy. 
Croy and her father first showed symptoms on May 31st and June 1st. A few days later, her mother began showing symptoms, but her brother did not contract the virus. 
"My dad lost his taste on May 31st and the day after, I started to have symptoms. I woke up June 1st with a scratchy sore throat and a headache," said Croy. "My neck and eyes felt super stiff and they hurt to move; it felt like when you have a bad sinus infection/cold. The overall experience felt like the flu, strep, and a sinus infection together."
After talking to a doctor, Riley and her family took COVID-19 swab tests and got the results in about a week.
"We weren't surprised when we found out we had COVID because my dad was in the hospital by the time we got the tests back. When he was admitted, he had to take two rapid tests. Both were negative for COVID, but my dad was in such bad shape that he was admitted anyways. Obviously the rapid tests were false negatives and his normal test came back accurately as positive," said Croy.
"
He said that it was lonely and tiring. He was in the hospital for five days. He saw his doctor through facetime and that's it"
— Riley Croy
While her father was in the hospital, no one was in physical contact with him. Croy and her family were not able to see him, leaving her father in complete isolation.
"He said that it was lonely and tiring. He was in the hospital for five days. He saw his doctor through facetime and that's it," said Croy.
While their doctor recommended them to quarantine for two weeks, Croy's family quarantined for three weeks. After her father was hospitalized, Croy's neighbors also were infected with COVID-19. 
"Since we all had COVID, we would sit outside in our lawns to enjoy the fresh air and talk about new symptoms we had or how we felt," said Croy.
Thankfully, Croy's other neighbors would bring back groceries for the infected on the street, and her friends would cook them dinners. 
"It was super nice and thoughtful of them, and I do not know what we would have done without them," said Croy.
While Croy's family managed to survive the virus, COVID-19 has had lasting physical effects on her and her father.
"I still don't have my smell and taste back all of the way. A lot of things taste different, like lemon, if I can taste it at all. My mom has her taste and smell back, but it is not as good as it used to be. When my dad and I started working out again, our lungs felt small. We got out of breath quickly and it felt like our lungs weren't filling up all of the way. It is better now, but it took a while to adjust," said Croy.
Nationwide, more than 250,000 people have died from the virus, and this number is expected to rise to half a million people. While the Croy family managed to recover from the virus, many families are not as fortunate to overcome the lasting effects. 
"We got super lucky that we were able to recover the way we did, but it could have gone a lot worse," said Croy. 
Due to their experience, the Croys continue to follow COVID guidelines, so other families don't have to go through the same traumatic experience. 
"We as a family try and do the right thing by social distancing and wearing masks when we are out in public," said Croy. "It would be nice if everyone followed the rules, but not everyone is doing the right thing; however, we can't control what others are doing . . . Our family has been more careful because we don't want anyone else to go through what we did."
Covid-19 Impacts Teacher
Teacher describes his family's bout with the virus over the summer, when infection rate was lower.
Even if it hasn't directly impacted your life, there are plenty of people in the world who had to deal with the effects of the coronavirus. AP Euro and Art History teacher, Robert Lynde, had a very personal experience with the virus and its effects on his own family. 
COVID hit the Lynde family in late-June. "My wife is the only one who tested positive," said Lynde. "It was scary because she started feeling bad on a day where she and I were out shopping together. We spent the whole day in the car together. I was breathing the same air she was breathing and [she told me], 'I got this funny pain in my back' and then that night she started feeling really bad."
The following day, his wife came down with a fever which prompted Lynde to call the doctor and get her tested. "My wife is very careful," said Lynde. "She always wears a mask, she is super healthy, very fit so it was scary."
"I was scared too, not so much that I was gonna get it, but I was scared [because we were around a lot of family right before then and we were worried about that]," said Lynde. "It was scary about who we might have spread it to."
At this time, the COVID restrictions were starting to loosen up. As more things opened, the Lynde family allowed themselves to open up more, following the rules, but COVID shut them back up in the house.
Their entire family realized that it was their responsibility to keep the virus in the house and do all they could to help their mother get healthy so they decided to quarantine in their home for about three weeks. No one left the house due to their exposure. "We are a real active family, and we just halted all of it," said Lynde.
"My take on it was: I have an 18-year-old daughter, an almost 16-year-old son, my daughter can drive, so I basically took the idea that I will take care of my wife, and if I need [my kids] to handle everything else around the house, they are old enough to do that," said Lynde.
Not only were Lynde's kids a great help with keeping family stability, but neighbors and nearby families also chipped in to help grocery shop or do anything else they needed.
"
When I see people who say 'This isn't real, this is fake, wearing masks is a liberal thing,' and that is really frustrating to me because my experience is that people who say that didn't see their wife drop 20 pounds in three weeks. They didn't see their family members sick."
— Robert Lynde
"When it started it was just aches and pains. That night it was a headache, and then in the morning it was all of that and more, but still not unbearable," said Lynde. "My wife basically got better after the first week. The fever went away after two days, the aches and pains went away and all she felt was tired. Then it just got really bad on day eight."
During the eighth through eleventh days of her having the virus, the only thing she had strength for was getting up to go to the bathroom. "Day eight, she couldn't even get out of bed and she had difficulty breathing." 
Lynde was expecting to get the virus from his wife. He realized that he needed to expose himself to it to make sure she was cared for, but he never tested positive. He took both tests for the virus and for the antibodies and he came up negative for both. It was a strange result because he had been actively engaging with someone positive.
There was a sense of practicality when Lynde was expecting to test positive for the virus. It was still summer, so he wouldn't be exposing himself to students, when school returns he would have already got the virus so he would have a bit of immunity, his daughter would be able to go to college because if she had it, she also would have some immunity– it didn't seem like the end of the world. After seeing his wife go through the worst part of the illness, he rethought his optimism for testing positive.
"We never disbelieved the virus. We always believed that it was real, that we should take precautions, but now I get a little bitter when I see people who say 'This isn't real, this is fake, wearing masks is a liberal thing,' and that is really frustrating to me because my experience is that people who say that didn't see their wife drop 20 pounds in three weeks. They didn't see their family members sick," said Lynde.
After experiencing the virus, the Lynde's perspective changed from a family who had only heard of the effects, to a family who personally were affected and experienced the fear that came with it. 
The greatest change was that they isolated themselves from their extended family since June. "It's been six months since [we have seen our grandmother]," said Lynde. To keep in touch, they have been setting up Zoom calls, but it was a big change not seeing family over the holidays. 
"Since my wife and I married, I don't think I've had a holiday gathering that was less than 25 people, and this time around it was me, my wife, and my two kids," said Lynde. "We did a Zoom on Thanksgiving, and it was really sad. Nieces and nephews are bigger… they are applying to college and I've always been the guy to help them, and it's just not happening."
The Lynde's didn't necessarily have a bad case, but it was bad enough that they have remained fairly isolated with fear of bringing it back into the house. They are all continuing to take precautions by wearing masks and keeping distanced, and they will continue to stay safe hoping not to spread it.
"Once it's all over, I think we owe it to ourselves as a society to go back to as much normal as we possibly can. If we don't, we have allowed the negative to change us in a way that's not good," said Lynde. Those who have embraced this and stepped up the responsibilities that are required to handle this virus will become stronger people. "I want things to return to normal, but I am not going to do that until our scientific community says it is the right time to go back to normal."
"When you see someone you love suffer through this, you understand and know that you don't want this to happen to someone else." COVID is strange. It is unexpected and scary, but it is important for everyone to understand its effects and the way it can change an entire family lifestyle. Luckily Mrs. Lynde was able to recover from this virus, but not everyone does. It is important to continue to wear masks and take all the necessary precautions to ensure that COVID doesn't continue to spread. Even if you've never experienced it, millions of people have, and we must do our part to end this pandemic and get back to normal.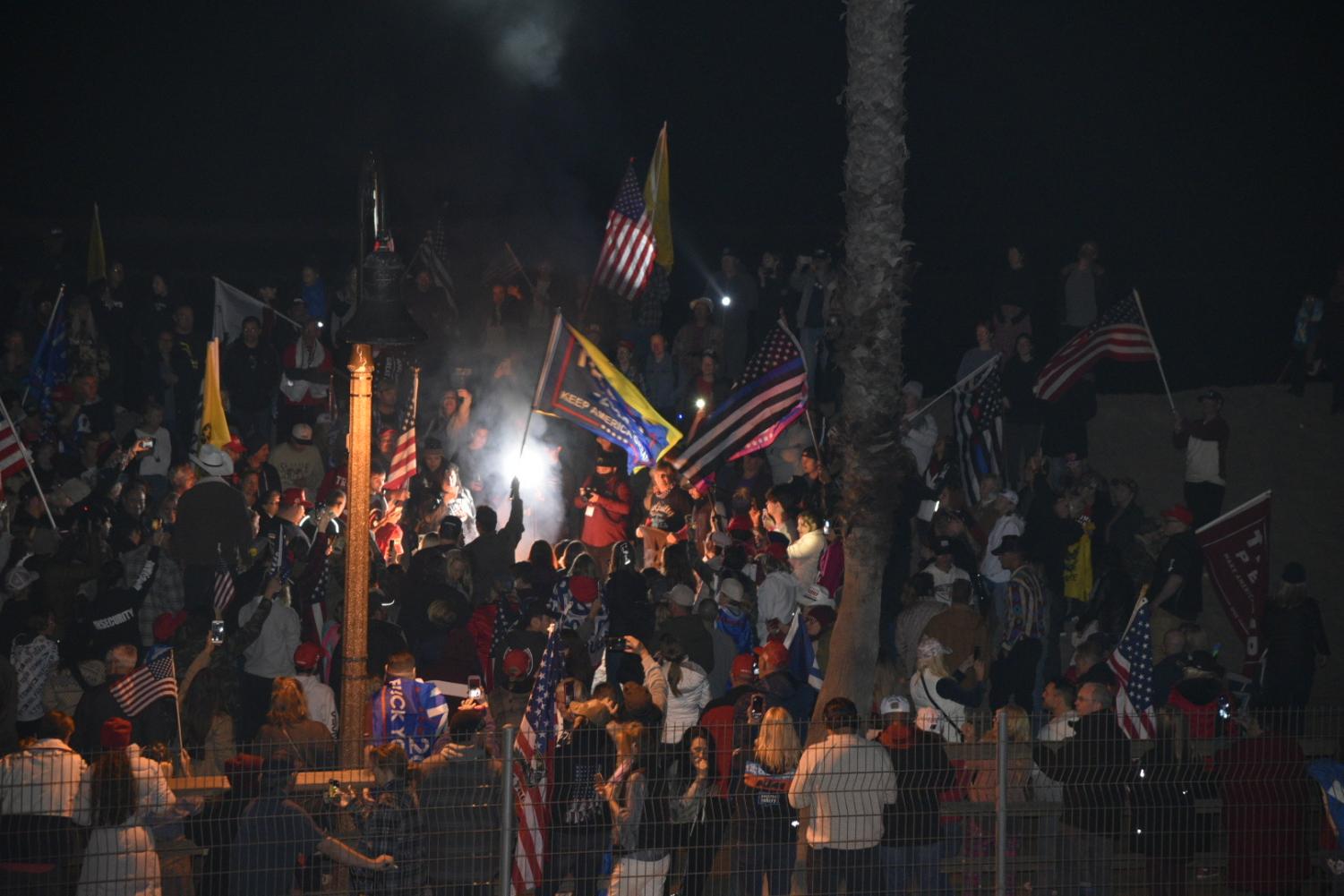 Masks Up in Flames
Hundreds of anti-maskers show their disapproval of the California's stay at home order by burning face masks
Hundreds of protesters gathered along the San Clemente Pier on the evening of Saturday, November 21, in response to the 10pm curfew that Governor Gavin Newsom instituted. Donning Trump paraphernalia and burning masks, the crowd served as a demonstration of how our community's political division is at an all time high as a result of the pandemic.
This demonstration was spearheaded by the American Phoenix project, which was founded at the onset of the pandemic, says their actions and rhetoric respond to the "fear-based tyranny" of lockdown restrictions. The organization even states that their goal is a "Second American Revolution," to heal our nation and institute a more ethical government. 
Russ Taylor, a member of the board of directors at the American Phoenix project, gave more insight as to why he and like-minded individuals feel the need to protest and stand up to Covid lockdowns, especially in the wake of controversy surrounding the Presidential election.
"The actions of Gavin Newsom go directly against the Constitution and our freedoms. That is where we have an issue," said Taylor.
Taylor's words are emblematic of how fundamental principles of individual liberty and freedom have merged with our nation's response to a public health crisis as severe as the coronavirus. According to the American Phoenix Project, the idea of a large scale, organized effort to contain the virus goes against core values of small government and personal autonomy. Therefore it is easy to conclude that America's political heterogeneity is correlated with its inability to control the pandemic.
However, conflicts with personal liberty and the safety of others are likely to occur when a quarantine is instituted. Nevertheless, a highly contagious virus is surging, and this is a matter of life and death.
"
A 50-year-old is 30 times more likely to die of Covid than a 25 year old, and a 65-year-old is roughly 90 times more likely to perish compared to a 25-year-old."
"Given the fact that the coronavirus has a 99% survival rate and it is still dominating our lives is really a travesty of this year. The fact of the matter is that people die all the time, it's sad, but there are many instances," said Taylor.
It is true that the survival rate from Covid-19 has stayed in the high 90s, but elderly and even middle-aged individuals face a far greater likelihood of death. For example a 50-year-old is 30 times more likely to die of Covid than a 25 year old, and a 65-year-old is roughly 90 times more likely to perish compared to a 25-year-old. Furthermore, Taylor's values extend to even the most basic health precautions.
"I am fine with people wearing a mask if they choose to, but the moment I am being told I must wear my mask if I leave my front door is where I and many other people have a fundamental issue," said Taylor.
For better or for worse, Taylor's words have been echoed across America, including President Trump's reluctance to wear a mask. Ironically, it may be Taylor's and other voices on the right's commitment to preserving freedoms and growing mistrust of the government that keep our country in a pandemic standstill. 
In addition to condemning mask mandates, right-wing extremists have shown skepticism towards vaccines that cannot be substantiated with evidence. "If you have a vaccine that is built inside of a six-month period there's no way I am taking that," said Taylor.
The bottom line is that our country's economy cannot operate at full capacity until either a critical mass of the population has been vaccinated, or herd immunity is reached through widespread infection. Waiting for herd immunity without vaccination would result in thousands, possibly millions of more Covid deaths and a prolonged period of shutdown.
A vaccine is the path to reopening schools, holding concerts and large sporting events, and letting life go back to normal sooner rather than later. While Covid-19 vaccines have been developed at a historically fast rate, a cause of anxiety for some, scientists have applied new technologies, which have proven to be safe and effective in large-scale research. The risks of getting vaccinated are miniscule compared to avoiding it.
In a year that has been full of controversy and the spread of misinformation, responses to the coronavirus have been no different. Russ Taylor represents how right wing ideologies serve a purpose in our country to question change and stand up to infringement on liberty. However, during a time when the pandemic has killed over 280,000 Americans, it becomes increasingly difficult to see the logic in putting the freedom of normal life in front of the health and safety of others.
A Reality Check for the Ignorant
History Never Looks Kind Upon Those who Didn't Look Kind Upon Others
The first case arrived in January. The first death was in February. Lockdown orders came in March. Soon after schools across the country shutdown and we moved online. Fast forward to today, a virus that was supposedly no deadlier than the flu has resulted in more than 38 million unemployed and 250,000 dead.
This should be a time where our community comes together against a common enemy and takes the needed sacrifices in order to protect those most vulnerable, but recently it has instead become more and more evident that many people have grown completely apathetic to the idea of helping others.
From holding anti-mask protests and throwing large parties, to refusing to wear a mask in public and neglecting social distancing, the risks some people have taken, both big and small, only demonstrate the dispassion and  ignorance of those who participate in them. 
Even the seemingly insignificant act of constantly whining about having to wear a mask is harmful. Besides being completely disrespectful to the doctors who execute minute surgery for hours on end all while wearing a mask, those complaints only contribute to fueling aversion for public health safety.
Many influential people are using their platforms to spread misinformation and fuel distrust of our medical professionals.
Certain politicians and media organizations have blatantly ignored scientists and common logic by downplaying and ignoring the grim reality of a virus that has devastated our country. They've encouraged people to put short-term profits ahead of human lives. This is despite the fact that we can always recover the economy, we can never recover those that unnecessarily died.
For the officials, celebrities, and anyone else who publicly preaches safety, while in private ignoring it, you are little better than those who admit to it.
Our elected officials, and to a lesser extent our celebrities, should both encourage us to listen to our medical professionals and set a high example for what to do during a pandemic.
"
A virus that was supposedly no deadlier than the flu has resulted in more than 38 million unemployed and 293,000 dead."
Even more concerning than the people who disregard Covid out of ignorance are those who overlook basic science in order to fuel a baseless conspiracy which proposes that every single doctor and medical professional are lying to us about Covid and how it's all a 'hoax'.
Whether it be by disregarding the effects of Covid or disobeying the advice of scientists during a pandemic, the extent to which these individuals have gone to dismiss the suffering of others is extremely frightening.
While it is true that for some that are infected the virus is little more than a flu, but this doesn't mean that these are the symptoms of everyone. For every dozen people who only get a small cough, there is a grandparent on their deathbed. For every dozen people who are asymptomatic, there is a loved one who is stuck in a ventilator and can't see their family in-person.
People need to remember that Covid is more than just the mask-wearing and social distancing. It's the thousands of families who are struggling to afford the basic necessities like food and water. It's the millions of people who lost their jobs, many of whom lost their only source of income and can no longer financially support their families. It's the hundreds of thousands of people who lost their parents, relatives, or grandparents to the virus.
I understand that for many of us Covid fatigue has set in and deep down everyone just wants a return to normalcy. We want to be able to attend sporting events, we want to go outside without the fear of spreading an infectious disease, but we need to remember that people's lives are still at stake. 
We are living in historic times and the actions we take in these upcoming months will be written down in the history books, so decades from now the next generation will ask us what we did to help others. Will you tell them that your ignorance and selfishness got the better of you, and that you put your own short-term satisfaction ahead of the long-term health of your loved ones. Or will you be able to confidently say that you prioritized the lives of others above all else and did everything in your power to keep people safe.