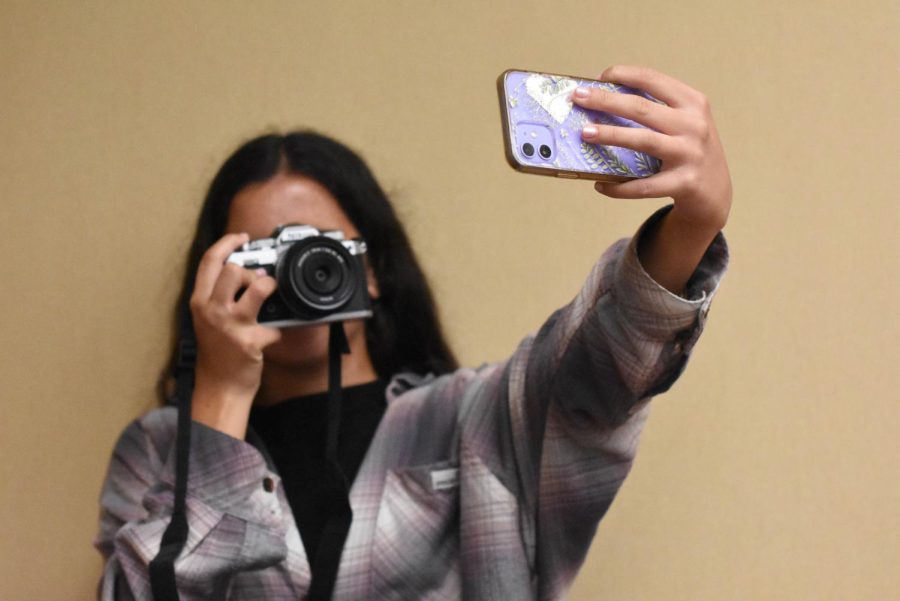 Is Film Photography Dead?
November 17, 2022
Digital Captures the Moment
Gen Z has made a hobby out of reviving nostalgia from a time before they were even alive. In the music industry alone, vinyls, CDs and even Walkmans have been surging after decades of irrelevance. Though film camera companies, such as FujiFilm and Polaroid, have seen significant increases in popularity in recent years, digital photography will continue to be a staple in modern life. 
First and foremost, digital photography is far less expensive and much more accessible than its traditional counterparts. Most people already own a cell phone, which can function as both camera and editing software for those who are starting to develop a passion for photography. Film cameras are typically fairly expensive, and the disposable versions need to be replaced frequently, which adds unnecessary waste to the environment.
"
Digital photography allows the user to effortlessly capture snapshots of their lives, while also allowing the images to be easily saved, shared, and used"
Since film photographers are required to buy film for their cameras, it automatically means they must be more careful about how many photos they're taking, and what they're taking photos of. Digital cameras can take up to hundreds of photos at a time, with no additional cost or inconvenience to the photographer. Additionally, on cell phones and digital cameras, one can immediately view their image and determine if they want to reshoot, an incredibly useful feature that is impossible for film cameras to implement. 
In addition, digital photography is far easier to share than traditional film photography. Images captured on cell phones can be transmitted instantly, while film photos require the user to wait until their roll of film is finished, then they must go to a specialist to develop their film, which is an additional expense, and only then can they share their photos.
Following Polaroids making a resurgence in the mid 2010's, many teenagers appreciate it when photos have a retro look to them, whether it's the distinctive Polaroid frame or the grainy filter from recently popular film cameras. However, since cell phones can also act as editing software for images, it is fairly simple to add filters to digitally taken photos in order to give them more of a vintage aesthetic. This also preserves the quality and color-realism of the original photograph, if the photographer wanted an accurate snapshot of what the moment was.
Ultimately, it is clear that digital photography is superior to all other forms of photography because it's remarkably convenient. Phones allow consumers to take multiple, high-quality photos with ease and practicality. Larger film cameras are far too bulky and heavy to comfortably carry with you to use throughout the day; and even the smaller disposable cameras prove to be an inconvenience, as they can get easily lost before you can develop the photos. 
Digital photography allows the user to effortlessly capture snapshots of their lives, while also allowing the images to be easily saved, shared, and used.
Leave a Comment
Film is Evergreen
In recent years, film photography has made its return as teenagers have grown to prefer the aesthetic of film rather than digital phone cameras. Although digital cameras have become more advanced than ever and digital photography is the most prominent photographic medium today, there is an undeniable aesthetic associated with film photography that cannot be replaced.
Today, smartphones and DSLRs make the process of taking photographs too easy. You don't have to worry about the results because it instantaneously shows up in your roll of photos. If you don't like a photo, you can just trash it and retake it with the click of a few buttons. While digital photography may be more convenient, the process isn't nearly as genuine or gratifying as film photography.
In film photography, light-sensitive, photographic film is exposed to light in order to take a picture. An impression is captured when the camera's shutter opens and exposes the film to light. Once the exposure is made and the impression is captured, the film is rolled forward to prepare a new, fresh section of unexposed film for the next photo.
Thus, film photography forces a photographer to commit to taking a photo, rather than catering to indecision. While some may not have the patience required for film photography, the process is far more rewarding than just snapping a photo with an iPhone. With film, the act of taking a picture and having it 'disappear' until it gets developed creates a sense of excitement and anticipation for the photographer and the people in the photos. 
Evidently, film captures the true, raw value and process of taking photographs. With digital photographs, an individual can use Photoshop and filters to perfect an image and make it look 'perfect.' Film captures the genuinity and authenticity of a moment in time. Not to mention, film typically produces sharper and more detailed images and has more natural color.
The process of film photography builds knowledge and encourages purer experimentation. Today, many would rather just take a picture with a smartphone and then use apps like VSCO to replicate the distinctly grainy and slightly green tint of a film photo. Although this is a cheaper alternative to film or disposable cameras, the use of digital mediums to replicate film photography is an insult to the art of film.
"
Something about knowing a photo was taken on film creates a sense of intimacy and nostalgia between an image and the viewer"
— Sydney Wolfe
Although the rise of digital cameras and technology has made photo-taking easier than ever before, the art of photography is being lost. With digital photography, many don't appreciate the opportunity to take a photo and savor the moment. On the contrary, film photography allows for a person to really solidify their memories from a certain moment. It saves the pain of going through 100 images from a burst of photos and trying to select which one is the best. 
Film photography is undeniably the blueprint of all aesthetics. Something about knowing a photo was taken on film creates a sense of intimacy and nostalgia between an image and the viewer. Film evokes emotions and ignites memories that are simply incomparable to the capabilities of digital photography. 
View 1 Comment