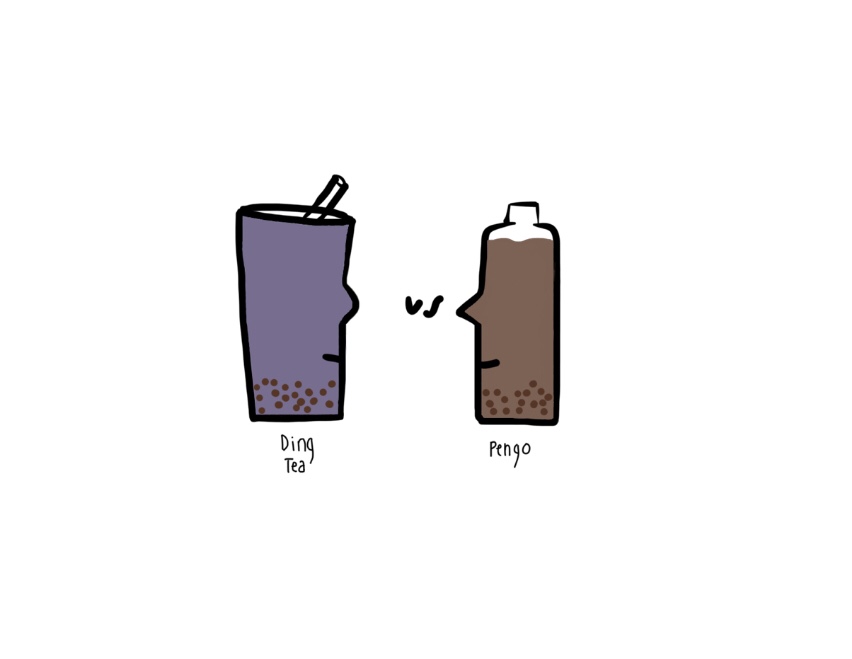 Boba Wars
October 18, 2021
Ding Tea: A Boba Haven
Some may give the "happiest place on Earth" title to Disneyland, a pricey theme park with entertaining decorations and fantastic pretzels. I would like to counterthat statement, however, and give that title to a more than deserving corporation– Ding Tea. 
At the Mission Viejo location of Ding Tea, I am definitely more than a local, and with good reason. They offer the best selection of milk teas, slushes, and boba– of course. 
I have been lucky enough to try almost the full menu– as I had made an executive decision to try every single flavor until I found the tea I like best. There are definitely a few standouts: the chocolate slush, taro milk tea, and my all time favorite, hazelnut milk tea. As for the drinks that aren't mentioned, they are still phenomenal, and have proven so by the long line always seen outside of Ding Tea's door. 
The boba, golden boba in specific, is what I believe makes their teas outstanding, and it's the best in the entire county by far. It is the perfect combination of vanilla flavoring, and childhood nostalgia of orbeez– but edible.
The drink flavors themselves are also to be commended, having a variety of categories including coffee teas, milk teas, slushies, lattes, fruit juices, and fresh teas. They also have the inclusion of yakult/yogurt toppings and of course, the many types of boba.
However lovely the corporation entitled Ding Tea may be, it has come to my attention that another boba business, Pengo, is believed by some to serve "the best boba."
I'm here to debunk that idea, fast.
Although I am not one to bash boba, no matter what business it comes from, I will easily stand on behalf of  Ding Tea in its comparison to the less than ideal Pengo. Unfortunately for Pengo, the boba itself is not nearly as good and the texture being awkward and unflavored.
Their drinks are also incredibly heavy, heavy on the stomach that is, and I strongly encourage anyone with lactose intolerance or just sensitivity in general to stick with the lactose free teas at Ding Tea. Especially for those lactose intolerant friends, who will likely spend their evening over the toilet instead of finding enjoyment at Pengo.
The ice at Pengo is another fault. It's much too small and oddly crushed. It feels as if you are drinking a soda rather than a sweet tea, and if I wanted that I wouldn't spend $6 for it.
Ding Tea also caters to the specific tastes of customers that Pengo doesn't do as accurately, taking orders for certain portions of ice, sugar, caffeine and several other adjustments until your tea can leave you 100% satisfied.
I could go on and on about the superiority of Ding Tea over Pengo, but if I do I'm afraid Ding Tea will find my appreciation too obsessive, and as an avid customer that would be a shame. With that being said, I can only repeat my statement on behalf of Ding Tea being the ultimate boba corporation, and for anyone saying otherwise, you are either unacquainted with all that Ding Tea has to offer, or have questionable taste.
View 1 Comment
Pengo: Bottle of Happiness
I've been on a quest to find the best tea and boba in Orange County for quite a while. As a self-proclaimed boba connoisseur, I can guarantee you that Pengo Drink Station is number 1, and has some of the most mouth-watering, high-quality drinks in Southern California.
With quite an aesthetic menu, Pengo offers various teas, suitable for any of your particular cravings. The most infamous drinks on their menu are the sparkling fruit teas which are infused with mint leaf, lime, natural fruit, and chia seeds. My personal favorite from the assortment of fruit teas is the "Kiss of Dragon," which not only has a beautiful magenta color, but is hand-crafted with fresh dragon fruit. For my friends with a lactose intolerance, Pengo's fruit teas are for you.
Pengo also makes the best out of traditional flavors like taro, thai, and jasmine to compose the finest milk teas that have a satisfyingly smooth texture and taste. They also have signature drinks including fruit smoothies, slushy-like juices, and even milkshakes. 
And, of course, for the best part of their drinks: their boba. Pengo's boba isn't too chewy and its not-too-overpowering flavor goes perfectly with any drink you order. If you aren't a fan of boba, they offer plenty of other delectable add-ons such as chia seeds, rainbow jelly, aloe vera, crystal boba, and coffee jelly.
Honestly, I don't know where else you can find a place with as many authentic drinks and options as Pengo. Though the price for most drinks is just over $5, the high quality makes the price that some might think is too expensive, completely worth it.
Among all of my trips to the Pengo location in Laguna Hills, one drink has truly stood out to me and is single-handedly the reason why I choose to go to Pengo when I'm craving boba. This drink is the House Special Coffee, a sweet blend of iced coffee topped with a layer of cream, and my preferable add-on of coffee jelly.
To give you an idea of how good this drink is, I ordered it from DoorDash three consecutive days in a row over the summer. I'll admit, it might be an unhealthy obsession, but if anything, it just shows how outstanding the drinks from Pengo are.
The physical presentation is another wonderful feature. All drinks are served in reusable glass jars with their adorable penguin logo on it. This eliminates the polluting usage of plastic cups that typically end up in landfills, leaking harmful chemicals into the environment when they decompose. Also, most locations offer promotions if you bring in your glass bottle to reuse. So, not only are you consuming a delicious drink and getting discounts, but you're also helping the environment. It's a win-win situation.
While the benefits of Pengo Drink Station exceed far beyond what I've covered, it is up to you to make a stop at the nearest location and experience the excellence of this corporation for yourself. And if you choose to deny their excellence, that's your loss. 
Leave a Comment