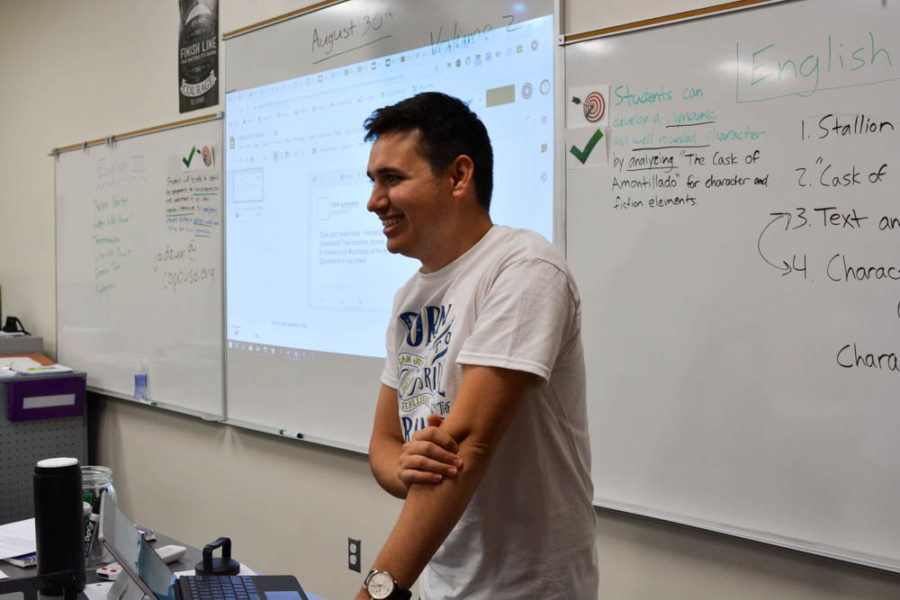 New Teachers Mixing Up The Staff
September 27, 2019
As a new year begins, new and old faces are seen all over, in both staff and students. This year is no exception, with seven new teachers joining the SJHHS staff.
Emily Barbarino, Katelyn Connors, Royce Friedmann, Jayson Daum, Krista Rodriguez, Kathleen Stough, and Negin Sami are the new additions.
Stough, a former biology teacher at Marco Forester Middle School, is excited to be a part of a new campus and a supportive staff this year. She plans to implement NGSS, New Generation Science Standards, adding new standards to the way students learn.
"It means less lecturing and more hands on learning. It's the way that I wanted to be taught. It's learning by doing. That's how it should be," said Stough.
Daum teaches English I and III. He plans to implement a new idea in the curriculum called Authentic Assessment.
"
It's the way that I wanted to be taught. It's learning by doing. That's how it should be"
— Kathleen Stough
"Authentic Assessment is essentially students applying what they've learned for various perspectives," said Daum. "For example, one student might be asked to, from the perspective of a police officer, write a report to a judge to determine if someone is guilty. It still has them using standard English skills- evidence collecting, citing sources, and proper formatting- while applying what they know to outside environments."
Daum said Authentic Assessment will be introduced later in the year once we've gotten into the rhythm and the dust is settled.
In addition, Connors, a former Stallion herself, will be teaching English l and English ll, as well as being a resource teacher, which is an education specialist. The Resource elective is a course that provides students with time to study for their classes, complete missing assignments, and work on homework. During class, she plans to make good connections with her students and focus on helping them reach their individual goals. 
"Every teacher should take the time to develop authentic relationships with their students in order to learn their individual learning needs," said Connors. "I want to be my students' champion and help them achieve success."