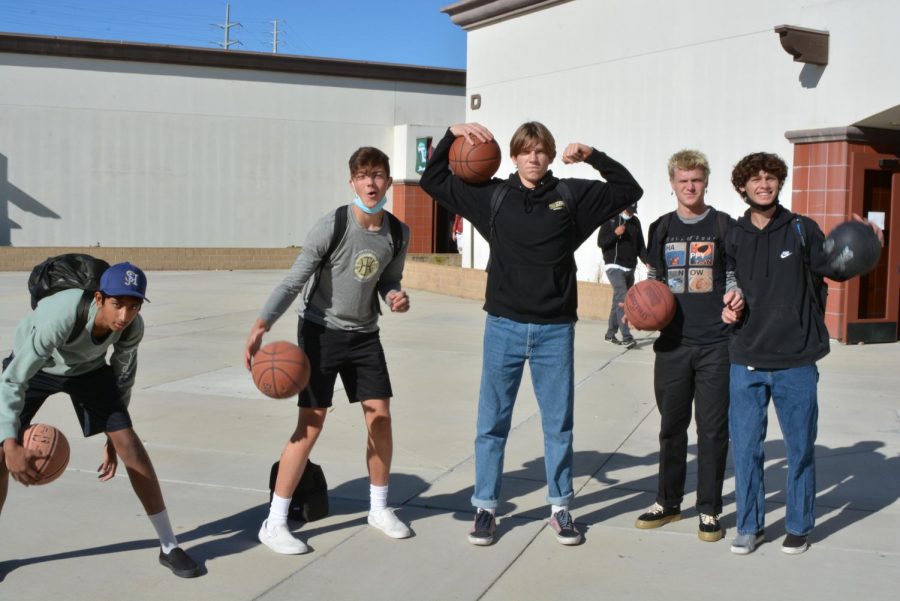 Gabby Laurente
Noticing lots of guys doing push-ups on campus? It's not just to impress. The boys basketball challenge began Monday, October 18, and is to continue through Friday, November 5. 
Before the last two years of COVID, the basketball challenge has been a fun tradition in anticipation of basketball season, to start up in late November.  
"The dribbling challenge is an awesome way to create hype for the basketball season, and a great way to get in shape and have some fun," said junior, Fritz Melchert. 
For three weeks, all boys basketball players in the SJHHS basketball program are expected to dribble a basketball around campus. 
The only time players should not have a basketball in hand is indoors. If not in class, that basketball should be bouncing. 
The challenge forces players to maintain control of the ball, and if they cannot, they are "dropping to the ground". If a student or staff member knocks the ball away from the player, the player must complete 25 push-ups on the spot. 
In an email sent to the staff, boys varsity coach Jason Efstathiou described the rules of the challenge, mentioning that "If they refuse to do their push-ups, please also tell me." 
So boys, we're watching you. 
All jokes aside, the coaches are passionate about ensuring their players stay committed to the challenge and actually complete their push-ups when their ball is taken away. 
Although this challenge may seem like all fun and games for the students, by forcing players to "give them 25", it's understandable why some are ready for the challenge to end. 
From having to be extra careful when walking to class to doing push-ups on the rainy day's wet concrete, the challenge has tested students' patience and dedication to improve as players.
Overall, the basketball challenge is preparing players to reach their full potential before the season begins; so next time you see a player "dropping to the ground" make sure to not just put them on your Snapchat story, but wish them good luck this season.