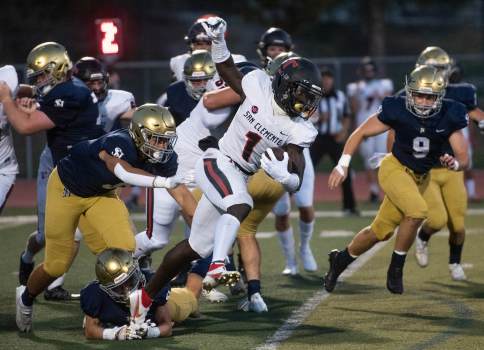 Courtesy of OC News
California high school football was canceled this season due to concerns surrounding player safety amidst a pandemic. 
At last, it's coming back, but it's not what you might expect. This year, the San Juan Hills high school football team will only play a five game season. 
Their season started off against El Toro on Friday, March 19, where San Juan Hills won 48-14 and then they played Capistrano Valley on March 26 and won 52-41. Students were able to enjoy the games via a live stream administered by the school. The live streams were in HD and were free to access. 
Not only were there live streams, but there were also fan cutouts present at the game. This is supposed to simulate the idea of fans to help the atmosphere feel more normal. 
"The cardboard cutouts are really neat. They are stallion sports fan head cutouts that we place in the stands like you've seen on TV at professional sporting events. Students and staff have submitted pics of themselves from the waist up and we had them printed so we can put them in the stands where there are empty seats due to social distancing protocols," said ASB activities director, Brooke Valderrama. 
The team has three more games ahead, which is great for multiple reasons. 
One reason the five game season is beneficial, is because players who may have been overlooked in the past now have the opportunity to create senior film, to be sent to college coaches in hopes to receive a late scholarship offer.  
There are many talented players in high school that don't receive an offer, and   senior season is their last opportunity to earn late offers.  
"We just had a junior get offered and two seniors also. Recruiting is all about getting your film out to college coaches," said assistant football coach and History teacher, Juan Hernandez
This year's football team is very talented and many players could earn scholarships because of this new opportunity. 
In addition, sports in general, especially football, keeps student-athletes occupied and focused on school, preventing many from engaging in troublesome activities outside of campus. 
Sports essentially give student-athletes a major motivation to do their best academically, as they must be doing well in school to remain eligible for their sports team. 
However, football season starting back up is not only great for the players, but for the fans as well. 
The school is simply not the same without football. The anticipation and excitement of Friday football games gives us something to look forward to during the school week. 
It is great to have football back and have some excitement in the air surrounding the team whether we have to watch via livestream or not.