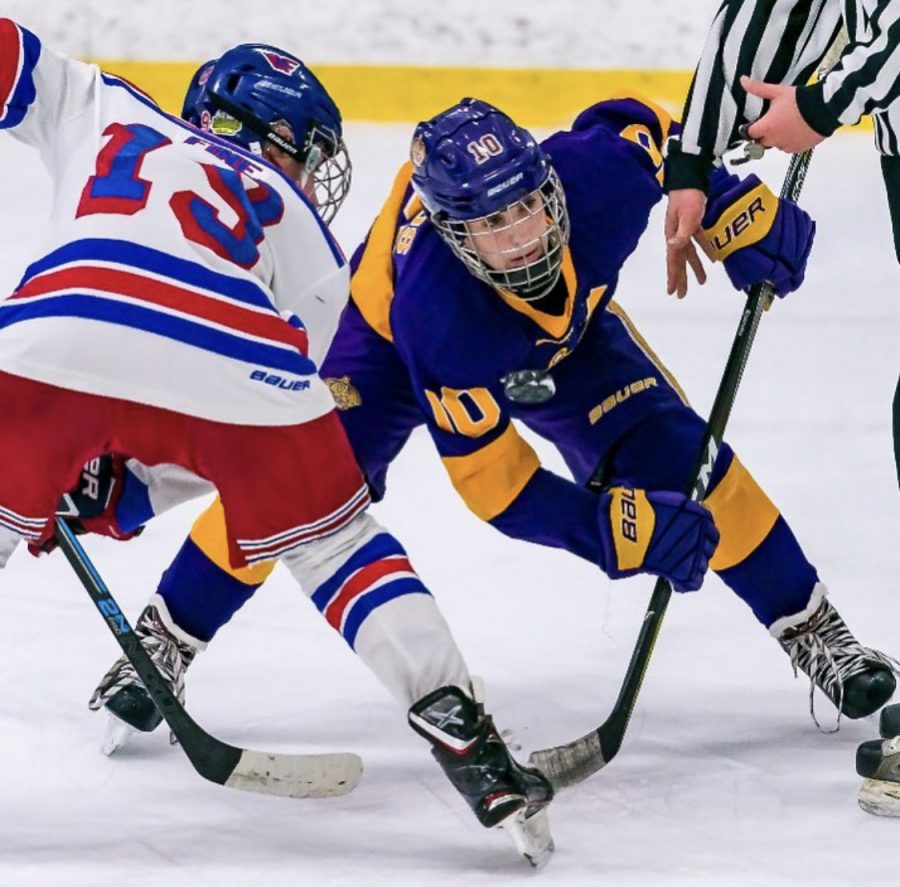 Courtesy of Brenden Fields
Here by San Juan Hills the weather tends to stick to warm and sunny, which makes sense as the most popular sport in California today is baseball, for both young and experienced athletes. However there is a unique sport to play around here, all centered around the cold . . . hockey. Why choose hockey in this climate you may ask, well here's what students from SJHHS have to say. 
Caden Bradford, a senior at San Juan Hills has been playing hockey for nine years and currently plays for the Capo Unified School District hockey team, the Capistrano Coyotes. Their practices take place at Great Park Ice, located in Irvine. 
"My dad is from Canada and he motivated me to get into hockey. I started with roller hockey and eventually moved on to ice hockey," said Bradford. 
Many students who have been playing hockey for years had some sort of influence or upbringing relating to this sport. 
Sophomore Brenden Fields has been pursuing hockey for ten years, currently playing in Chicago for the Chicago Young Americans. His goal is to work hard enough to make it to the NHL in the future. 
"Growing up, my dad was a huge hockey fan and he introduced me to the game. At around five years old I was watching the 2010 Olympics and Team Canada beat Team USA in overtime, and that inspired me to start playing hockey," said Fields. 
Hockey is so intriguing to many because of how different it is from other sports. A typical practice consists of a mixture of structure and skill. The way it is played is very unique in the fact of its speed. The fast pace requires the athletes to be able to make sudden movements and keep up with the constant changes and turn-overs. 
"The competition level in ice hockey makes it the fastest paced sport there is. In other sports, you might run miles or play for long periods of time, but an ice hockey shift is about 45 seconds. This quick pace makes the game amazing," said Bradford.
Just like any other sport, the players are dedicated to the game. To play hockey in California's sunny climate, players are forced to travel and make long trips to the ice rink. But that's the sacrifice one makes when they love the game. 
"I love the sport of hockey because it brings me joy every time I step on the ice. It is a break from the outside world where I can just compete my hardest and leave everything out on the ice," said Fields. 
When watching professional hockey, viewers may see physical fights on the rink. It is indisputable that hockey is a very competitive sport, and even for teenagers, hockey lives up to its aggressive nature. 
"Fighting is not allowed at this age, but people get very aggressive with hitting and their words. Most of the fighting would be trash talk and shoving or even punching with gloves on. Last year, my friend got ejected from the game for punching another player in the head, which heated up the game with trash talking and heavy hits. This experience was unforgettable because of how competitive we got just so we could win," said Bradford. 
One important thing to note about this sport is all the expenses. Because of its unique location and the intensity of contact in the game, lots of money is spent just trying to buy gear that can keep the players safe at all times. 
"Hockey is probably one of the most expensive sports you can play in high school because of ice costs, tournaments, and gear. Every player will spend about $1,000 just in gear. The most important gear needed are skates, a secure helmet, a stick, shoulder and elbow pads, knee pads, etc.," said Bradford. 
A driving factor of the hard work athletes put into their sport is their passion and love for the game itself. Hockey is no different. 
"Hockey is definitely a sport I can see myself doing in the future because it has become a sole part of me. This sport keeps me active and I look forward to every game and every practice. I will always enjoy the game," said Bradford.