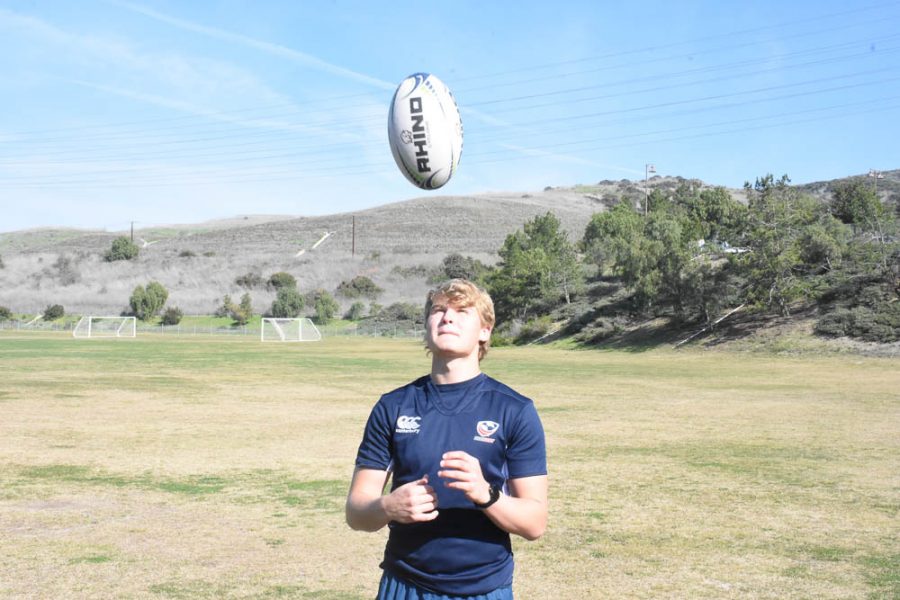 Gabby Laurente
Being named captain of the national USA u18 team, Lucas Pattinson has set the standards high. The senior began playing rugby at age 12, and has continued with the sport ever since. 
"I started playing because of my dad. He is from the U.K. and played when he was growing up. He never pushed me into it though, he let me decide to play on my own, but he always supported me," said Pattinson.
Rugby consists of forty minute halves with a five minute break in between. Two teams, with fifteen players each on field, compete by carrying, passing or kicking the ball to the end zone, with the goal to score as many points as possible. The game also includes some restrictions, such as violent or foul play, which can lead to a penalty. 
Pattinson has since joined a club team, the Back Bay Sharks, which is part of the Eagle Impact Rugby Academy or also known as the EIRA. He also plays for San Juan's rugby team, organized by the rugby club.
"The hardest part of the game is probably the physicality of it. You have two teams that are essentially trying to grind each other down for eighty minutes while neither team gives an inch that isn't taken from them," said Pattinson.
Founded in 2016, the rugby club watches and analyzes highlights of professional and international games. The club also engages in actual gameplay, competing with other schools like Corona del Mar and Los Alamitos. Due to the games being moderately small, players from local schools like Dana and Tesoro join as well. 
Selected as the USA u18 captain, Lucas has guided the team to many victories, winning games during the winter break in Chula Vista. Playing for EIRA has also led Pattinson to various travels, competing in other countries like Ireland and Canada. 
"I love the culture of the game. Respect is the most important thing. Whether it is the referee or your opposition, there is always an air of respect," said Pattinson. 
As of right now, Pattinson plans on continuing rugby in college, and in recognition of his achievements, it is safe to say that Lucas has made a name for himself in the rugby community.