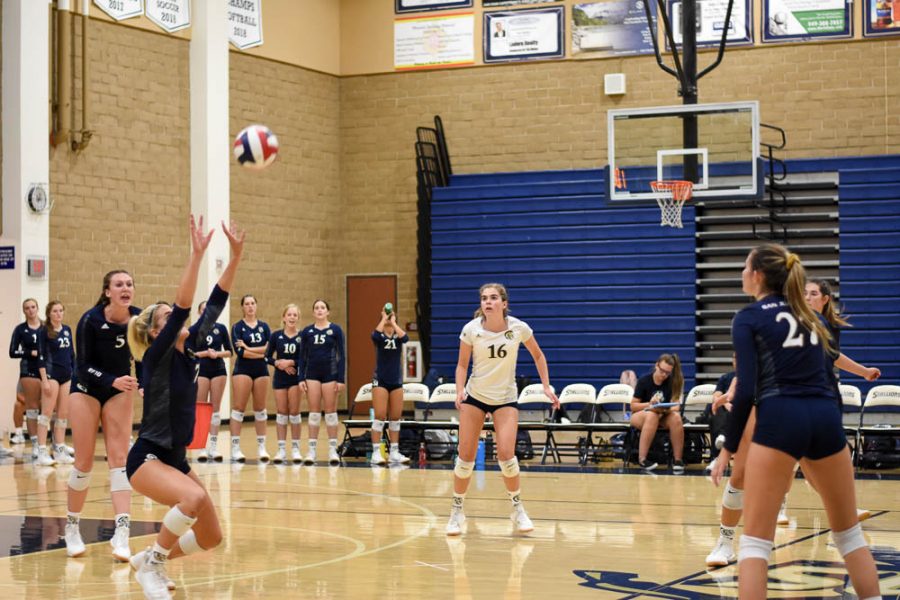 Emily Wale
Nothing brings people together more than the community of a sports team, and at SJHHS, one of the closest teams is Girls Volleyball. Wrapping up another fantastic year, the girls are proud of their successes. But beyond winning and losing, volleyball has brought the girls many personal gains, including new friendships and lasting memories.
"There is a huge sense of community and we are all really close. Including the time when we stayed an extra night after we got second in our San Diego California Challenge tournament. We went out to dinner and watched the sunset together, it was the perfect bonding weekend," said senior Kylee Rogers whose position is middle blocker.
The bond extends off the court. With all the time they spend together, they began building a close-knit circle that promotes and generates a sisterhood.
"It's really cool because a lot of us on the team sit at lunch together and we are really close. We even hang outside of school together. The vibe of the team is pretty cool. There is definitely a sense of community and support, not just in the sport, but beyond. We seek each other out for help, always knowing we can rely upon each other when something is wrong," senior setter Casi Newman said.
With the success of a volleyball team riding on a team's ability to communicate with one another and work in unison, the girls' bond naturally propelled them to a prosperous season. This season was filled with amazing game day memories for the players to reminisce over long after the season ends.
Among the team members, a bond seemed to develop particularly over a match against Santa Margarita. In prior years, Santa Margarita knocked SJHHS's team out of a spot in the state finals, so it was time for SJHHS to turn the tables.
This year, with determination from the team, SJHHS was prepared to face Santa Margarita. They got off to Margarita in the first two matches with a safe lead. Then the intensity picked up the following two matches, won by the opponent in closely pointed games. But SJHHS showed their strength in the final tie-breaker game with an amazing win of 15-7 in the last match, taking home the game and proving their ability to come back and grow from past losses.
"We won [the game against Santa Margarita] and learned that energy and hype changes the whole atmosphere of the match. When everyone is overjoyed and screaming at the top of their lungs, we feel the momentum more than the other opponent, pushing us towards victory. We really gave it our all," said senior middle blocker Marissa Cooper.
The team finished the season with 22 wins and 9 losses. They also ranked 136th nationally, 24th statewide. By keeping up the good work and creating lasting friendships, the girls finished on a high point for the fall season.