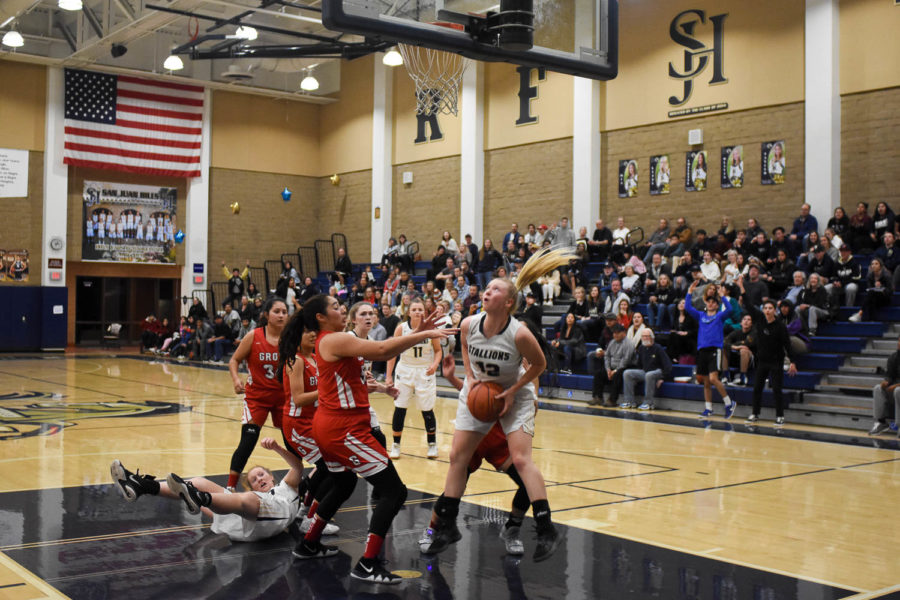 With a total of seven wins and only one loss during league, undoubtedly the San Juan Hills Varsity Girls Basketball team is doing very well this season.
Prior to season, the team set some team goals that they were hoping to achieve by the end of the season. "Our goals were to go to CIF, win league, win senior night, and beat Trabuco Hills who we haven't beaten in four years, and we did all those goals" says senior Liza Hladek. Hladek has been playing on the SJHHS team for four years, and who plays as a shooting guard.
The team captains are Hladek, along with senior Jordan Parkhurst and junior Grace Gentry. They have all played basketball for all of their years at SJHHS.
One of their great wins was against Garden Grove High School, with the score being 57 to 38. Following that game, was during the CIF playoffs against Pioneer High School, and the result was 53 to 29.
Contributing to the team's success is their hard work as a team and as individuals. "We have a great starting five and all contribute, we don't rely on just one or two people," says Parkhurst.
In addition, Hladek says, "We focused a lot more on our defense than our offense, our defense in the past has let other teams score over 40 points on us, but this year no team has really done that."
"My favorite part of season was Senior Night because there are six seniors so there was so many people there compared to other games, and in that one night was our gold game, future stallion night, and we won league" says Hladek. Senior Night was against El Toro High school and SJHHS won by 20 points (51 to 31). "My favorite part of season was also senior night because you only get one of them," says Parkhurst.
"Basketball is a sport where a lot of girls come in not knowing how to play, so if you are involved in a club team beforehand you will be a step above," says Hladek.
Parkhurst also adds, "Don't do the sport just to get out of PE, do it because you love it, even if you haven't played before, do it because it is a great experience."
Unfortunately, in the teams most recent game against Oxnard High School, they lost.
With 4 out of the 5 starters on varsity being seniors, there will definitely be openings for anyone wanting to try the sport.