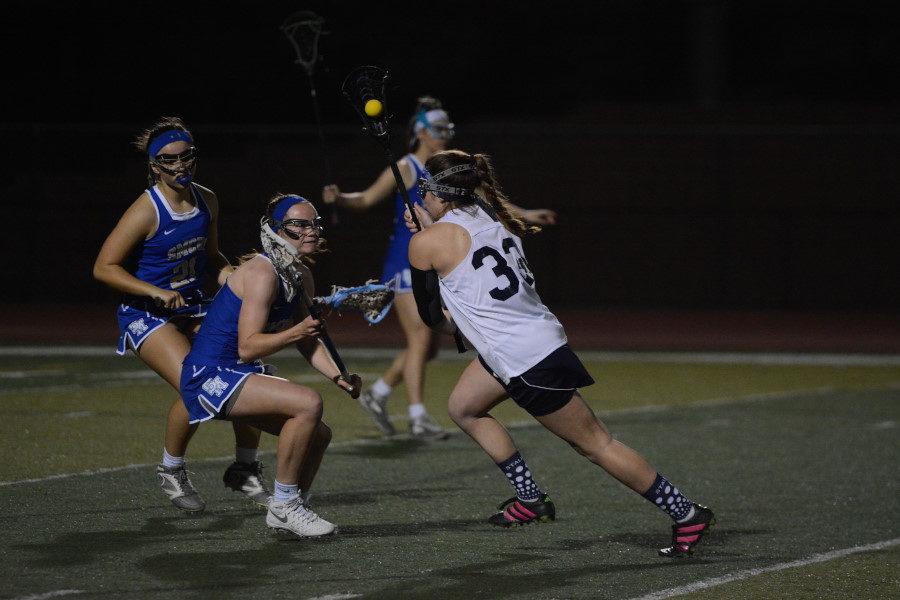 McKenzie M.
After a successful season last year, which included becoming league champions, maintaining a 14 – 5 record, and moving up in leagues to South Coast, the future was looking good for the SJHHS girls lacrosse team.
Currently the team has "had a little bit of a rough start," said captain, Tristan Goldhammer. In the team's first two games against Mater Dei and San Clemente, they suffered losses, but captain Elena Guillen said, "I hope… [that] whether we lose or win, we keep our head[s] up and and remember we are only improving every time we take that field".
Since their difficulties, the team has rebounded and won their last four games against Great Oak, Dana Hills, and Santa Margarita, and Laguna Hills earning themselves a 4-2 record.
"With every win and every loss, I take pride in the fact that we are playing tougher in competition, and it's something I believe we all learn from," said Guillen.
The coaches leading the SJHHS girls lacrosse program are Michael Welter and Steve Austin who "send out team inspirational quotes just to get us hyped for the game; it's something we all look forward to," said Guillen.
Coach Welter has "taught [the team] lessons on the field, and off the field" said Goldhammer, and Coach Austin "knows what he's doing and just has a lot of passion."
The team gained two freshmen this year on varsity, yet five seniors still remain. Last year's graduating class included Journey Fishbeck who scored 121 goals in 25 games played.
"We've felt Journey's absence a little bit, but I think that all of the underclassmen have really stepped up and filled the gap pretty well" said Goldhammer and "even though we miss having Journey we have a lot of other talent that can easily fill her place."
Guillen said "our team has done an amazing job adjusting. We lost two incredible defenders, yet our defense this year is amazing…As for attack, we've learned how to read each other and instill an incredible continuity with our plays".
Even though there have been many ups and downs already, a major shock came when senior Mia Jones tore her ACL and was informed that she wasn't going to be able to play for the rest of the season.
Coach Welter now has "all the other girls do ACL stretches as a part of their normal stretches," said Mia Jones, and "they do these knee movements that go side to side; they do balancing, [and] a little bit of kneeling."
"We got moved up a division so our competition level has definitely been elevated, but I think it's a challenge we are all ready to face. We worked really hard to win Sea View league, so now we are ready for those harder teams," said Guillen.
Not only is the team able to "go from being dying of laughter to being dead serious… in a matter of days" said Guillen, but the "team has a really weird obsession with potatoes, we like analyze the different types of ways potatoes can be made and we also kind of have a and going on, a lot of us play the ukulele" said Goldhammer.
You can find the team doing so every other Friday, in Mr. Sned's room, at the Lax Appreciation Club run by senior, Lexi Sauk.