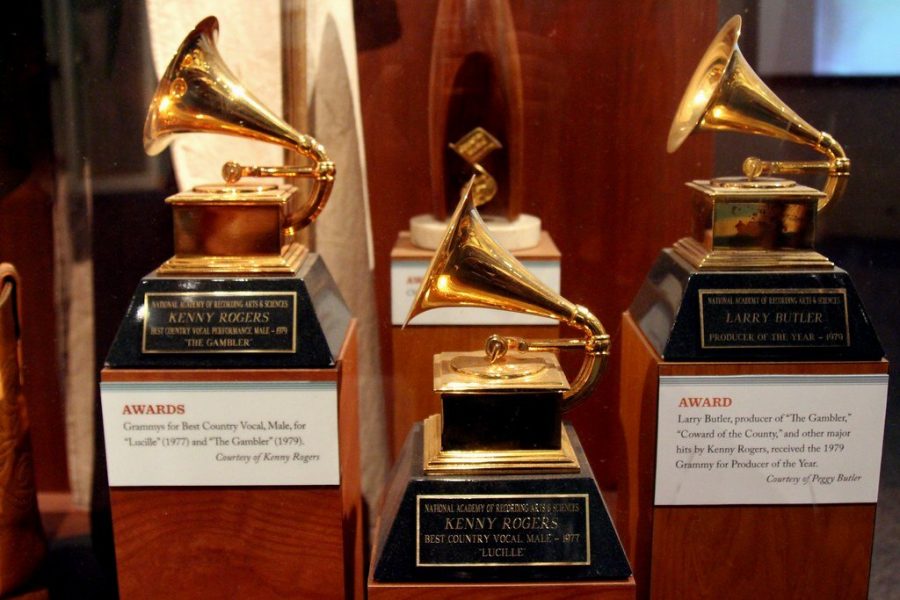 Courtesy of Flickr
Award show season, from the Golden Globes in February to the Oscars in April, is still happening amidst the times we continue to face. Controversy sparked following the Grammys last weekend as watchers and artists called out the show for corruption and lack of transparency, thus questioning what the true intention of award shows is and if they're even worth watching anymore.
In the entertainment industry, award shows are put on to identify the year's most favorable and praiseworthy artists. Shows such as the Emmys, Billboards, and Academy Awards bring in millions of television viewers a year; therefore, while showcasing the institutions' most successful people, the popularity of award shows allows for artists to further promote their work and make a profit. 
However, the viewer count and rating of many award shows have plummeted in the past few years. This year's Grammys was the lowest-rated in history with the view count and rating dropping nearly 53 percent. For what reason though? From repetitive awards to corrupt nominations, award shows have arguably lost all of their uniqueness and excitement.
A primary reason that has led to low anticipation for annual award shows is the extensive list of awards typically presented. For example, every year at the Grammys the awards are presented in 84 categories. While most of the awards are presented pre-show, announcing each individual award with lengthy commercial breaks and mediocre performances in between gets a bit dull, considering you can just look up who won an award or watch your favorite's performance online.
Additionally, even with the awards that are telecasted in the main show, the majority of the recipients are typically the most commercial artists who everyone already knows. The Grammys state that, regardless of charting and sales, each award recognizes "artistic achievement, technical proficiency and overall excellence in the recording industry." This is a questionable guideline as it challenges the transparency of the voting and nomination process.
While these popular artists earned their nominations and awards, it's unfortunate to see them constantly swarming mainstream media while less popular artists who deserve just as much attention are congratulated in parts of the show that aren't even televised. Seriously, how many times are we going to see Billie Eilish win a Grammy in one night?
In this year's Grammys, many artists voiced their disbelief with the recording academy. British-Pakistani pop soloist Zayn Malik took to Twitter to slam the Grammys saying, "F–k the grammys and everyone associated. Unless you shake hands and send gifts, there's no nomination considerations. Next year I'll send you a basket of confectionary."
The English singer followed up the tweet reaffirming that his remark "was not personal or about eligibility but was about the need for inclusion and the lack of transparency of the nomination process and the space that creates and allows favoritism, racism, and networking politics to influence the voting process."
Alongside Zayn, fans have also expressed agitation regarding the mistreatment their favorite artists face. For example, K-pop boy-band and international sensation BTS have been snubbed from winning a Grammy despite becoming extremely popular, breaking numerous records, and outselling many artists within the past few years, thus causing fans to be extremely outraged. 
"The K-pop phenomenon BTS can claim a similar experience: Despite having a groundbreaking hit with their summer bop "Dynamite," the band was only nominated for one award — Best Bop Duo or Group Performance. BTS then lost that race to Lady Gaga and Ariana Grande's single "Rain on Me," a song that was arguably far less culturally impactful," states Vox.
It is important to recognize that the group had never been nominated for a Grammy prior to the release of "Dynamite," their first song entirely in English. Though the group has had several consecutive years of record-breaking success with songs primarily in Korean, the Grammys have failed to acknowledge their accomplishments and didn't even consider them until they produced a song conforming with the ideals of mainstream music.
BTS's continuous disacknowledgement due to xenophobia in the industry proves to be a prominent example of how an award show might be losing popularity. While the viewer count of the Grammys last year reached nearly 19 million watchers, fans compared this number to a live-stream hosted by BTS' Jungkook on VLive, a Korean live-streaming platform similar to Instagram live or Twitch, which attracted 22 million real-time viewers.
Evidently, accompanied by challenges such as telecasting a show during a pandemic, award shows, mostly in the music institution, have become more despised and less anticipated each year. From underlying racism and favoritism to lack of transparency, award shows need to become more honest in order to gain their reputability and excitement back.