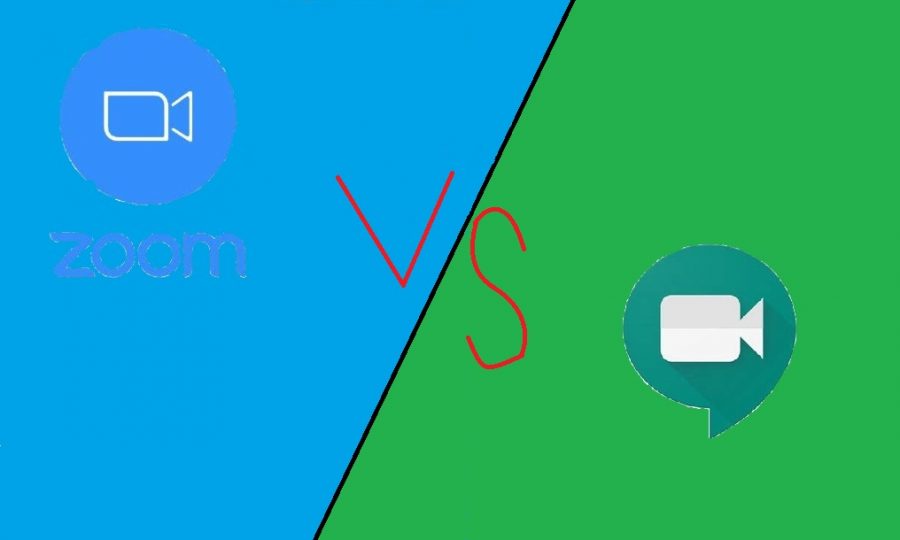 Graphic by Jack O'Connor
With school resuming online this year, which online meeting platform is best has been a hotly contested topic among students and staff. The most popular of these programs, Google Meets and Zoom, both allow students to log into their virtual classroom and attend lessons as if they were really in school, albeit from the comfort of their own homes. Though both are not without their flaws, Zoom's accessibility and ease of use has shown itself to be superior to Google Meet. 
"I was initially drawn to Google Meet as it was the prescribed video conference method of our school and district. As I worked with the system though, I found that it put a massive strain on the performance of my computer. This seemed only to get worse to the point of crashing fairly regularly," said Eric Noble, an English teacher. This problem is not exclusive to Noble's Google Meets, as crashing is a frequent occurrence during many online school classes. This issue is far less common in Zoom meetings, which rarely are interrupted with technical issues. 
As for the strain being put on computers by Google Meets, it has proven to be clunky and unreliable when performing on Macs. The video and audio connectivity of Google Meet also falls short, with many students complaining about not being able to connect their microphones or webcams when in class. 
"Sometimes with Google Meets, my camera just says it failed to connect, even though I can preview it working. Later on, I would join a Zoom call and it would be working just fine," said sophomore Gavin Albert. 
Aside from Zoom having overall better connectivity than Google Meets, it also beats the competition with a superior interface and a wide variety of features. 
"Zoom immediately proved to be a superior performing video conference platform, allowing screen sharing, while conferencing with 35 plus people, while navigating online. Further, as I became comfortable with Zoom, it became clear that it is a far more fleshed out system than Google Meets. Zoom provides excellent tools for screen sharing and presenting, as well as the very useful breakout rooms," said Noble. 
While Zoom has its fair share of flaws, with the 40-minute time cap for non-pro users being one notable one, the overall stability and accessibility compared to Google Meets far outweigh most negatives.
When choosing the best platform for online schooling, most teachers and students prefer a program that is easy to navigate and will provide the closest alternative to a real classroom setting. That's why Zoom's comprehensive features and stable connection make it the most optimal choice for teachers and students during online school.