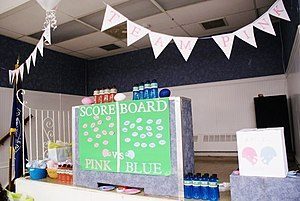 Courtesy of Wikipedia
Wildfires caused by fireworks involved in a gender reveal party in California have triggered a debate as to the importance and effects of the events. In this modern age where gender norms and constructs are being dismantled, the necessity of having a whole event dedicated to revealing what sex your baby is is irresponsible and harmful. 
Gender reveal parties are a fairly recent phenomenon in American culture with the first gender reveal being credited to Jenna Karvunidis in 2008. She baked a cake with pink icing in the middle to signify she was having a girl, and wrote about it in a blog which initiated the trend of throwing a party with family and friends revealing whether you're having a boy or a girl through a color coordinated activity. 
Although most gender reveal parties seem harmless, they are an unnecessary part of the pregnancy process that can have negative effects within the community and American culture. 
Parties centering around pregnancies are not new, baby showers have existed since the 1940's. Baby showers are very popular events for new parents, and have many practical benefits for the family. The main aspect of a baby shower is to gift baby supplies which helps new parents to prepare for their new child immensely. 
Gender reveal parties have no practical aspect and are only an unnecessary expense for new parents as well as sometimes being dangerous. 
This month's fires are not the first time a fire has been started during a gender reveal. In 2017 more than 45,000 acres of land in Arizona were destroyed causing over 8 million dollars in damage due to a gender reveal event.
Fires are not the only possible negative impacts that gender reveal parties can have. In July 2019 a car unintentionally caught on fire due to a gender reveal, and in October 2019 a woman was killed by flying debris after a device meant to emit colored smoke exploded like a pipe bomb. 
Negative consequences of these events can also be psychological. Forcing kids from a young age into traditional gender roles that say girls like pink and glitter and boys like blue and trucks can be damaging to children's self esteem and self image as they grow up.
Jenna Karvunidis' daughter, who she made the first gender reveal post about, now prefers to wear suits and keep her hair short. "Who cares what gender the baby is?" Karvunidis posted on Facebook in summer of 2019. "Assigning focus on gender at birth leaves out so much of their potential and talents that have nothing to do with what's between their legs." 
The standard of boys must be masculine and girls must be feminine is something that is taught, and the only way to progress past that as a society is to eradicate situations that reinforce stereotypical gender roles, which starts with gender reveal parties. 
Kids who don't fit into traditional gender norms are made to feel like outsiders and not "real" boys or girls. When a girl prefers more masculine things she is called a tomboy, implying that she can't be a true girl without liking standard feminine things. When a boy favors feminine toys or clothes he is often bullied and ostracized from male groups. 
If our culture shifted away from forcing children to like certain colors, media, toys, and clothing and instead let children embrace and discover who they are without their assigned sex at birth getting in the way, many children would be a lot happier.