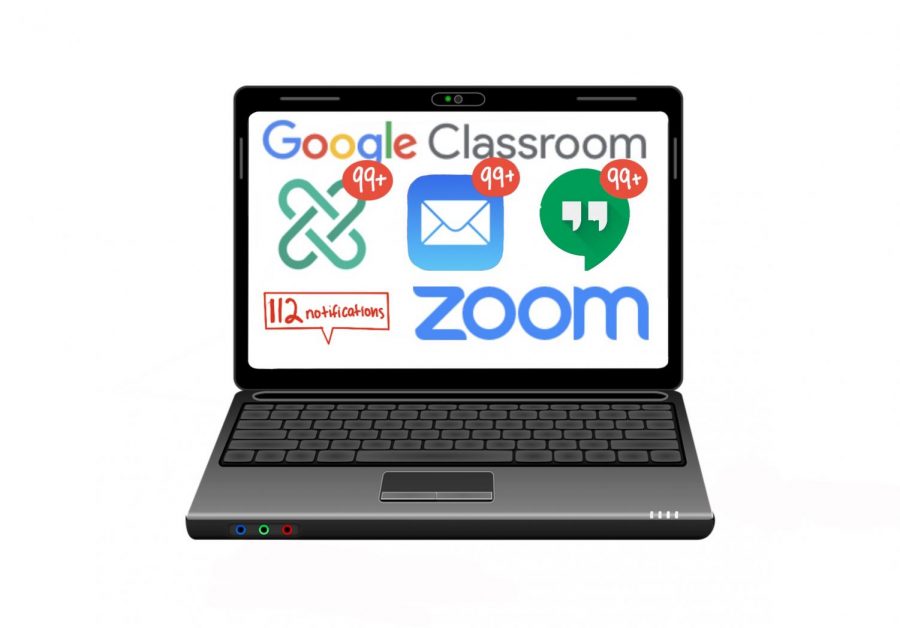 Nikki Iyer
Many students quarantining during the COVID-19 outbreak are having difficulty completing online work without the in-person guidance of their teachers. It can be frustrating when a teacher does not respond to an email as quickly as preferred, or when students simply do not understand an assignment because their teacher is not there to teach the lesson. 
Although distance learning is indeed complicated for students, they are not the only ones struggling with online school. Teachers have to deal with the complications and struggles COVID-19 has caused within the education system as well.
"I find that I am working much longer hours than I did before," said Emily Price, a biology, honors biology, and AP environmental science teacher.
"Working in front of a computer is much more tiring to me than working with kids," said Jamie Gonzales, an AP US History teacher.
While students may be extremely stressed due to the virus, teachers not only have to deal with that same stress but also how to help their students succeed and take care of family members. 
"Daily, I worry about my mother, who I don't allow to go in public. I am so sad for everyone, especially my seniors who will probably not be able to attend graduation. I am sometimes overwhelmed by the disheartening news about how much worse the pandemic is going to get. I am angry that so many people are acting like this is a vacation and not practicing the safety guidelines," said Price.
The peak of the virus has yet to come and teachers are suffering from the stress that causes – they are going through a global pandemic too. 
Like students, teachers have found ways to cope with these emotions stemming from overwhelming times. 
"I am handling stress by taking time each day, just for me. I am taking care of some projects at home that I had been putting off. I check in with my friends online or on the phone. I am trying to get some exercise and eat well…except for chocolate," said Price.
Changing five days a week in school to online assignments can be very difficult, especially without the clarity of deadlines. The new change has impacted teachers greatly in terms of workload and teaching style. 
"I have had to completely rework my way of teaching, which includes learning new technologies, implementing new procedures, and streamlining communication and grading," said Price.
Students may find an abundance of time for themselves during this break, and teachers share this feeling as well. 
"I have been practicing yoga, doing online dance classes, creating parody videos, and cooking new vegan dishes," said Price.
This virus affects absolutely every person and although it may be in different ways, it is important that everyone contribute towards ending this pandemic. 
"We're all in this together and we are all just doing the best that we can!" said Gonzales.