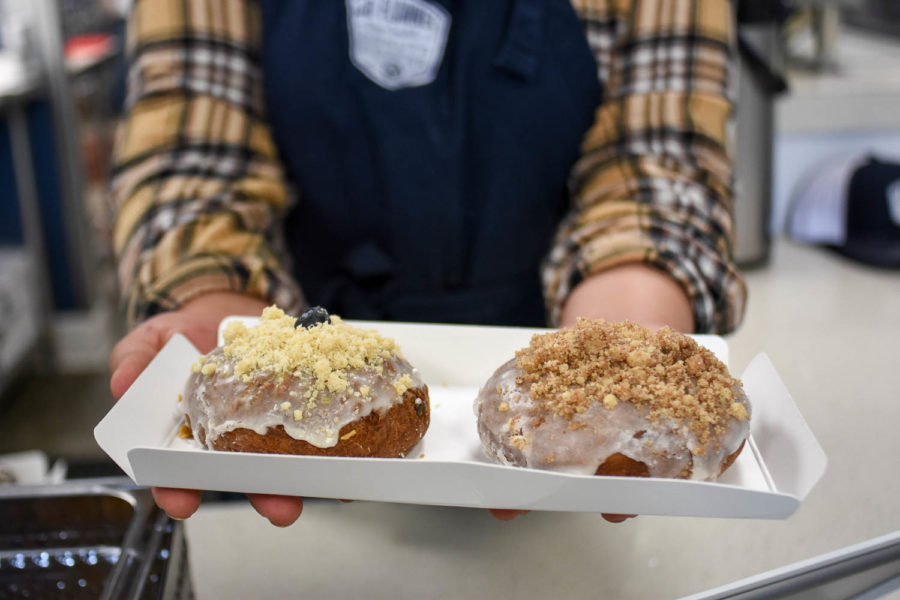 Isabella Mahar
JD Flannel Donuts & Coffee, located in San Juan Capistrano, opened on January 15th.  
The donut shop focuses on creating fresh and delicious donuts with no preservatives, dyes or artificial flavors, making this truly a unique spot to get your breakfast.
Upon entering the shop, a friendly, outgoing staff greets you with a smile, recommendations and are happy to talk to you.
The shop is clean and modern, with a minimalist style with a mostly crisp white coloring with accents of black. This brings attention to the beautiful donuts behind the display case.
The donuts are made fresh throughout the day, so you are never stuck with old products. However, you do have to be careful because some donuts sell out quickly, so you may have to wait for a new batch.
In addition, the kitchen staff is not afraid to create unique donuts that may only be in stock that day. You may be one of the first and only to try that kind of donut that day. For example, the specials on February 12th were a Cinnamon Crumble and a Chocolate Molten donut, which were created for Valentine's day.
Two of their most popular donuts were the Blueberry Lemon and the Apple Fritter. The Blueberry Lemon donut is an explosion of flavor, the moment you take your first bite. It has a sweet crumble on top, that counterbalances the lemon. Then the Apple Fritter donut is sticky, sweet, and perfect if you are a fan of apple pie. Both have a cake-like quality to their dough, which makes it a little on the heavier side.
Even a more basic donut, such as the Vanilla Bean, is still outstanding. It's very sweet, with the obvious taste of Vanilla Bean.
The donuts are a little more expensive, going from $2.95 to $4.95 a donut.
Overall, JD Flannel Donuts & Coffee is a fresh and unique place, that is definitely worth going to.