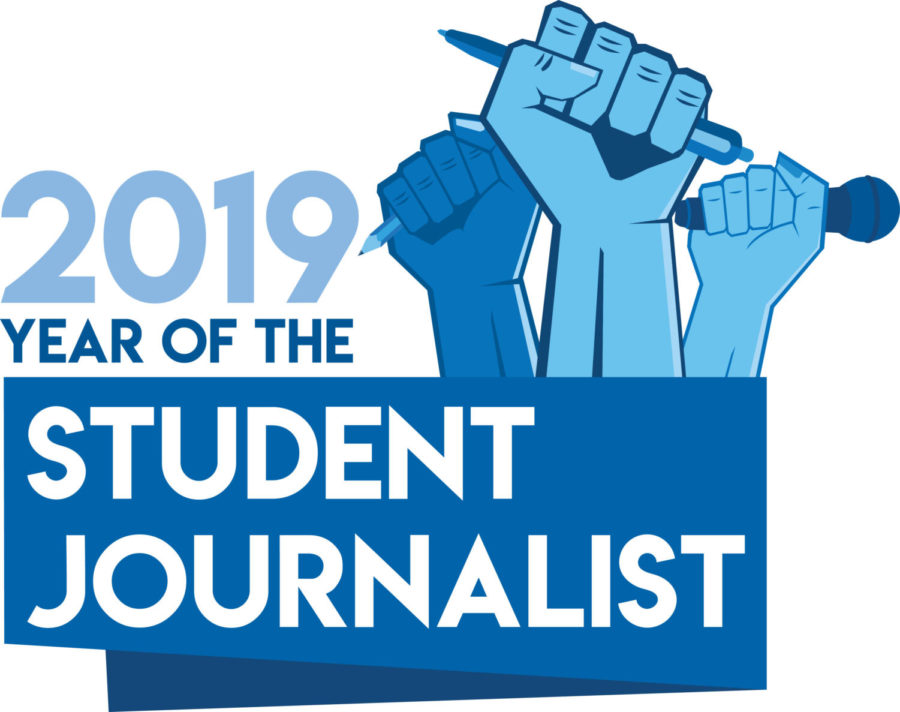 Courtesy of SPLC
With the number of professional journalists on the decline, and student activism rising nationwide, it's natural to expect that involvement in student journalism will increase.
Yet despite the decline in journalism jobs, students are still interested in doing good journalism because they are striving to better the community while gaining respect. This respect is earned by demonstrating knowledge about local and national news, and doing so factually.
Student news outlets are constantly belittled and underestimated, which can be extremely disheartening to someone that is just trying to do their job as a good journalist. Student journalists constantly struggle with sources who avoid them, or keep them out of the loop by withholding information, a subtle form of censorship.
Here's a suggestion: treat student journalists how you would treat a professional journalist.
Student journalists are always thoroughly watched and held accountable for reporting well researched, fact based news, especially about matters regarding their school. But it's difficult and frustrating to fulfill this expectation when we do not have access to complete information from administration.
Some topics are controversial, but students have the right to report on them. Something much scarier than a story exposing news about a school, is a censored article. Censoring is against the law and ignores the First Amendment rights that are guaranteed to everyone, including student journalists in California and other states (see page 6-7).
In September of 2018, Burlington High School's (BHS) Register was censored by being forced to take down a story about a guidance director facing misconduct charges. Although the article was written in a professional manner, it did not paint an image that the school approved of.
BHS is located in Vermont, a state that passed New Voices legislation in May of 2018, but that didn't stop the censorship of the articles. Eventually, they were published, but the students had to go to court to defend their journalism and force school officials to obey the new Vermont law.
New Voices is a non-partisan movement started by the Student Press Law Center that advocates for laws preventing censorship and prior review in states that don't already have them.
When a school's public image becomes more important than students' free press rights it is unacceptable.
Far too often, students are pressured by teachers and administration to only report on things that show the school in a positive light and to stay away from anything negative or controversial.
It is not okay for an adult to refuse to work with a student journalist simply because they assume  it will lead to a negative article when, in fact, they are just seeking information. News articles are not negative, they can be neutral about a negative topic, but if it's happening, it deserves to be reported on.
The withholding of crucial data can affect a reporter's accuracy, thus affecting their credibility. It is every journalist's goal is to report on newsworthy situations in a timely and accurate manner. This cannot happen when sources refuse to cooperate.
Credibility is almost impossible to establish when student journalists are not given all the facts.
At the beginning of the 2018 school year, SJHHS introduced a new system for course changing. This change was said to have made dropping classes/ lowering levels easier, therefore more frequent.
When asked for the numbers comparing student drops to the previous year, The Express was accused of trying to take down guidance, and a staff writer was lectured by an administrator on how to be a proper journalist, and how we had the wrong agenda.
Unfortunately, that wouldn't be the last time The Express would have difficulty obtaining data from school officials. When we asked for grade distribution data for AP Lit. last year (how many A's, B's, C's are given) that information wasn't provided either.
Recently, when The Express reached out to administration for data regarding the AP Government pass rates, we were given a redacted version. This version combined the AP Government and AP Government/AP Macroeconomics (AP Macro) pass rates.
The data showed that 59.2% of students passed the AP Government exam, but didn't state the difference of pass rates between the different AP Gov. classes.
This is necessary information when forming a fact-based opinion for an editorial and also for students and parents trying to decide what class best meets their needs.
The Express recently received a tip claiming that the new AP Government class actually had a 37% pass rate, when not combined with the AP Macro class. But this cannot be verified because only a redacted version of the complete data was shared.
If The Express were to publish an article claiming AP Government is a great class and had amazing pass rates last year, when in reality it didn't, we would have inadvertently published false information, misinforming the school as well as jeopardizing our own reputation.
In 2009, Brookings Institution conducted a survey and concluded that only 1.4% of mainstream media covers education news, and of that small percentage, very little discusses policies and curriculum. If students are not encouraged to report on all things, the good and the bad, it will likely not be found out, the report concludes.
All schools need to realize that communicating and cooperating with students is not a waste of time. It leads to in-depth reports that inform students, teachers, and families about topics regarding the school and the community that are meaningful and important.
Controversial topics should be encouraged to be reported. Lack of communication between a school administration and its student reporters not only can negatively affect the school's student publication, but the administration's reputation amongst students.
The youth is the future of journalism, and it's time to start acknowledging that by working with students as partners.