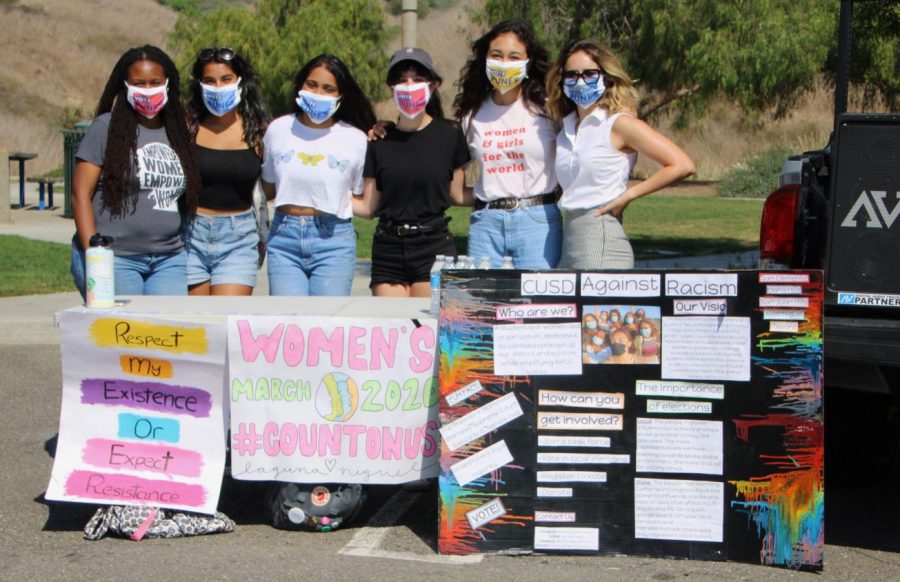 Photo Courtesy of Tess Mathes
The student and alumni led organization called CUSDAgainstRacism has endorsed candidates for the school board in hopes to diversify leadership and create an environment conducive to anti-racism campaigns.  
Students and Alumni set up interviews as part of the interviewing process. The organization reached out to the candidates and gave them questions to answer, ranging from general questions to specific ones pertaining to their backgrounds and beliefs.The interviews were recorded to be reviewed by the core members as well. 
"We looked for candidates that aligned with our values and who truly believed in action steps to advocate for change within CUSD. We then sent out the videos and notes to our general members of CUSD to then take their vote on which candidates they believed aligned with us well. Following the voting, we then finalized our decisions on the candidates we chose to endorse," said Tess Mathes, a core member of the organization.
The members chose women of different races who had backgrounds in issues that are important to CUSDAgainstRacism's core goals. "We have been able to present new policy, statistics, and research on various aspects in the hope to better the treatment of BIPOC individuals in CUSD and the overall betterment of CUSD. However, if there are not individuals on the board who will listen and enact then there is no real change happening. Therefore, we decided to endorse candidates that we believe will better CUSD as a whole, especially for BIPOC students and staff," said Mathes. 
Pamela Braunstien, the candidate running against Jim Reardon in the area of San Juan and Ladera Ranch has been endorsed by the organization, and is hopeful of the work that they can do together. 
"The work of CUSD Against Racism is something I admire. My next steps in supporting CUSD Against Racism would be to ask questions of the superintendent and the staff in the progression of the work of the cultural proficiency task force. I will continue to have open dialogue with CUSD Against Racism to see where I best parallel their work and I will ensure students have a voice," said Braunstien. 
The organization has also endorsed Jasmine Funes, for area 5 who is well versed in mental cognitive function and is a board certified behavior analyst. In addition, Funes is also a black woman, and the organization believes that her experiences can better equip the board with the information necessary to enact anti racist change. Funes' goals include implementation of restorative justice at schools and securing mental health resources and protections for students across the district. 
"Personally my favorite part was speaking to individuals who were knowledgeable on the topics we have presented to the board and listening to their expertise on the subjects. For example, mental health and restorative justice were two topics I especially loved speaking with about to Jasmine Funes because of her extensive background and experience on the two topics," said Mathes.
CUSDAgainstRacism also endorsed Sue Hill for area 3 in the San Clemente area. Hill has extensive knowledge of education from her years of experience on CUSD Board non profits as well as her degree in Quantitative Economics. Hill has also committed to amplifying student voices, which closely aligns with the organization's platform. 
On top of endorsing candidates, the organization has also been targeting voters from ages 18-24 in order to ensure an impressive voter turnout. 
"We are super excited to have voter mobilization subsets of our task forces at each respective high school that not only work directly with the candidates on tasks such as phone banking, but have been included in workshops on youth voter mobilization, ballot parties, and also connecting with the youth through social media. We also have exciting updates coming soon about the task forces' connecting with clubs within each of their schools," said Mathes.
Events ranging from ballot parties to women's marches all the way up to creating opportunities to encourage voter participation have all been organized by the organization's members. The organization uses their social media as a platform for voter mobilization to create positive change in the district, as their targeted age group have the tendency of using social media as their source of news.