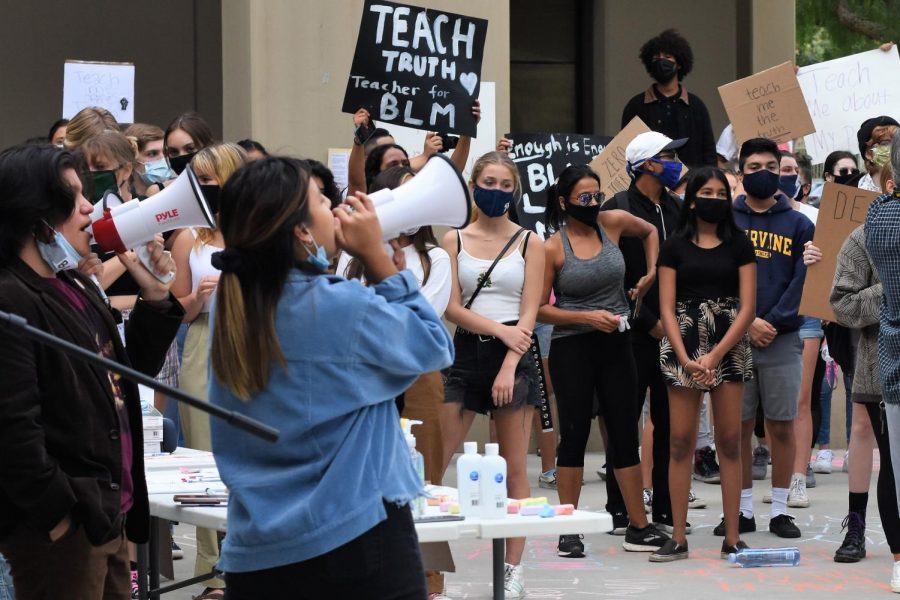 Jack O'Connor
During a summer of protests in the name of the Black Lives Matter movement, students and alumni of CUSD have created a movement to speak out against racism faced by many Black, Indigenous, and People of Color (BIPOC) in the community. 
CUSDAgainstRacism core organizers Solei Sarmiento, Olivia Fu, Stephanie Hu, Esther Mafouta March, along with many other members, made headway with the district with the aim to change CUSD policies to be more welcoming to BIPOC students.
"When Olivia and I organized a BLM protest in San Juan Capistrano with a few of our friends at the beginning of the summer, we had discussions about how we can engage community members at the event to not only protest but to take local action," said SJHHS alumni Solei Sarmiento.
"We wanted to have a table set up for people to write to their city council members or representatives about local issues affecting BIPOC; however, we needed more time before the protest's scheduled date to properly research what these local issues were specifically," said Sarmiento.
Over the course of a few months, the organization has met with CUSD's Board of Trustees, Teacher's Association President, Joy Schnapper, the Cultural Proficiency Task Force, Superintendent Kirsten Vital, CUSD's executive cabinet, Associate Superintendent Susan Holliday, the Capistrano Unified Council Parent Teacher Student Association Executive Board.
These meetings were designed to further the organization's goals of restorative justice, curriculum reform, educational equity, and student voices and well being.
The group has garnered support from parents, students, and teachers alike and has resulted in recruitment of students for the Cultural Proficiency Task Force started in 2019, whose mission is to "facilitate systemic change that increases learning outcomes for all students by engaging in on-going reflection to ensure an inclusive environment where students, staff, and the community value diversity." 
Both Sarmiento and Fu were dissatisfied with a statement published by CUSD in response to protests over the summer, believing it wasn't adequate in condemning the murderers of George Floyd and addressing racism locally.
Taking inspiration from Saint Margarita's open letter to their school, both alum got together with other students and wrote an open letter to the district on Juneteenth.
The organizers, including graduates from San Clemente High School and Tesoro put out a google survey for anonymous testimonies and coordinated instagram posts on an account for the organization.
"From there the organization really took off, we put together a rally and focused on really honing in on our points and meeting with district appointed people," said SJHHS alumna Olivia Fu. 
Task forces were set up at each of the district's highschools to make additional progress locally. 
"Overall, we want to avoid having a hierarchical structure because we do not want people to feel limited to a certain role or take advantage of their position. Therefore, any students or alumni who put in the work can be considered a leader within this organization," said Sarmiento. 
SJHAgainstRacism, the student task force for San Juan Hills has expanded to more than thirty members of current and former students.
"I joined because no one deserves to be treated differently for any reason, especially not their skin color. CUSD Against racism and the San Juan Hills Task force taught me more about microaggressions and little things on our campus that are truly racist. I just remember being in class and hearing students make blatantly racist comments and it's awful to see that in 2020, we still treat people differently," said senior Sarina Iyer. 
Iyer believes that education is the best way to become antiracist, and that includes educating herself. The task force has met with administration, and plans to meet with them regularly. Their goal is to apply CUSDAgainstRacism's core goals to their school in a unique way. 
"I think what's unique about our task force is that we have a huge range of people on it. We have alumni from 2013 all the way to current freshmen. What's amazing is how dedicated and driven everyone is and how we've all congregated around one goal," said Iyer. She has been astounded by the versatility in age and background of the task force, and the ability for all its members to unite around a common goal that they are passionate about.
All members of the task force and, more broadly the organization have applied their personal struggles with racism, and their observations of racist culture around them to their work. 
"Some of my experiences with racism definitely influenced why I originally thought why this movement was needed in the district. It was more of what I observed through the immersion program from kindergarten at Las Palmas to graduation. Through that entire time of the program I witnessed this idea of segregation in the schools," said Fu. Experiences like Fu's have helped the task force for SJH develop a clear list of objectives and ideas of how to address the school climate. 
"As a cisgender white man I'll never experience racism, but I think my classes and friends in college and grad school have really shaped my understanding of educational equity, the need for schools to uplift all students, and how we need to smash systemic racism," said SJHHS alumni and task force member Henry Lutz. He acknowledges that while he hasn't experienced racism, he knows it is all too common in South Orange county, and SJHHS isn't immune to it.    
"My very first experience with racism was in elementary school when I had a friend tell me that her parents said she cannot be friends with me because I was Mexican. I never thought about my background or skin color separating myself from others prior to that incident because at the time I lived in Irvine, and Irvine is a very culturally diverse area. When I moved to Ladera in middle school, however, I was met with some students who were not exactly friendly, yet persistent in knowing if I were 'biracial' or not; curious questions about my race with no intention of befriending me. In middle school and high school, it was common to hear kids throwing around the N word and making degrading comments about BIPOC students," said Sarmiento. 
Sarmiento recalls a time she ran down the fire trail for cross country practice, seeing a sign reading "Border Patrol", intending to target the many Latinx students who use that trail. 
As a second generation Latina herself, Sarmiento doesn't have to face the fear and anxiety of losing her family, and is fed up with the aggressive narrative of immigrants that permeates modern society, even at school. 
"It was frustrating because I knew whoever put up that sign did not feel like the Latinx students on campus were their equals. It was frustrating because I knew the student who put up that sign up has not been taught or has failed to reflect upon how immigrants have been recruited and exploited by the United States throughout history," said Sarmiento 
"Did whoever put up that sign up know that net migration from Mexico to the United States has been below zero since the great recession— meaning that more Mexicans have been leaving the United States than entering the United States for over 10 years? Did they know that many migration scholars have proved that border control likely increased undocumented permanent residence in the U.S because it halted circular migration between U.S and Mexico? My guess is no. Did they know the names of Gloria Anzaldúa, Ernesto Galarza, Cesar Chavez, or Sylvia Mendez? My guess is no. And these are just a few names of a myriad of immigrants from all over the globe, speaking an array of languages, and bringing a wealth of culture and experiences that help create this beautiful country we live in. This mosaic makes up the country I am proud of, " said Sarmiento. 
Iyer, one of the SJHAgainstRacism task force leaders, recalls a time when she was young when one of her friends put her "fourth" on the list of her best friends because she was brown. "At the time I didn't understand what that meant. I think I was more hurt by the fact that I wasn't on her top 3 friends. But looking back on it, someone taught her that being brown isn't okay. Kids don't just wake up not liking someone because of their skin color," said Iyer. 
These incidents of ignorance are not limited to SJHHS, and have motivated many students to recognize the need for change. 
"I signed a few of CUSDAgainstRacism's petitions and anonymous responses and became motivated to outline an open letter to SJHHS after reading so many anonymous stories of students experiencing racism on campus. I drafted a few ideas for the letter but also got some great help from alum and current students. I think the fact that we got 620+ signatures really shows how prominent racism is on campus and how much the SJH community wants to see change," said Lutz. 
Lutz has had a positive experience working with SJHAgainstRacism but described the pandemic as a challenge to the mission that prevents members from meeting one-on-one with administration and others. The task's force ability to overcome this struggle and fight for change has only inspired him more. 
The increasing need for cultural sensitivity has resulted in the district's decision to pilot an ethnic studies course, something all members are excited about. 
"I've been waiting my entire life to learn about other cultures and for other students to learn about mine. Sure, I do research in my spare time but I'm excited for the day that a BIPOC student sits in their class, unpacks their backpack, and gets to learn about their history and the history of their Latina best friend and East Asian teacher. I think it would spread so much more awareness and appreciation for the different cultures that exist in our world," said Iyer. 
However, while there has been great support, there have also been trials the organization has faced.  While the majority of the members the organization has met with have been supportive of their mission, there are still ways attitudes among district leaders could be improved. 
Sarmiento has met with CUSD leaders, and CUSD's Board  President Jim Reardon, whom she believes has had an underlying negative tone about teachers in the district.
"Although Reardon acknowledges that racism is a problem in our schools, has engaged in constructive meetings with us, and is supportive of our work, he defaults to blaming CUSD teachers and the Capistrano Unified Education Association often. His animosity towards teacher's unions is not productive, especially because the issue of racism and racial inequalities in our schools is. The reality is that we have spoken with both the teacher union president and the district and both sides agree that racism is a problem in our schools. Therefore, if Reardon works in the spirit of a united front, then actionable progress is more within reach," said Sarmiento. 
The group continues to host meetings and expand the branches of their task force in order to create change this school year.
"Until all students are exposed to BIPOC literature from a young age, pushed to have conversations around race and privilege in the classroom, and challenged to think beyond what their parents political stances are, CUSD campuses will not be safe, inclusive learning environments for students of color," said Sarmiento.