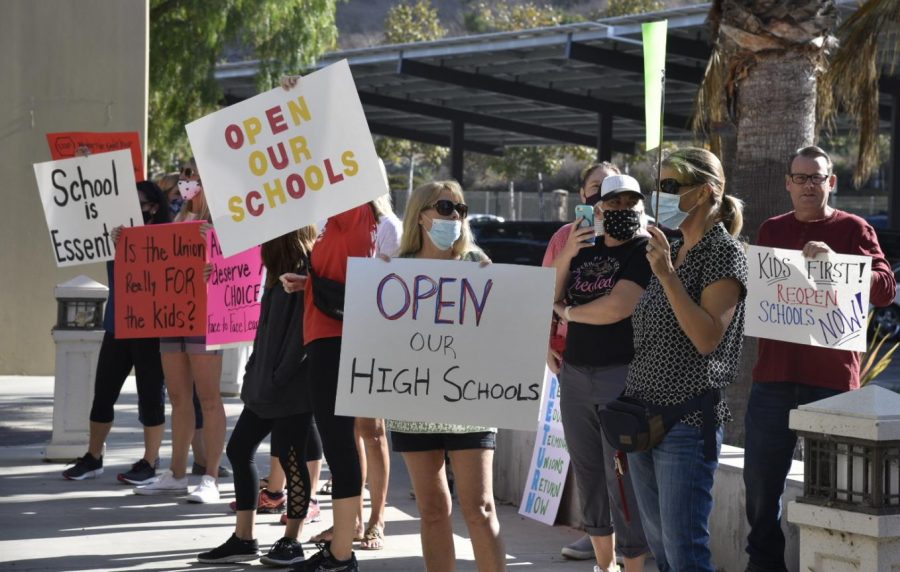 Gabby Laurente
UPDATED: An agenda item on whether to extend online learning to January or return to classrooms on Oct. 13 using a hybrid model of instruction was abruptly dropped from Wednesday night's board meeting.
A message from the superintendent and board president was sent to parents of high school students late last night pulling agenda item (#38) from the meeting, citing concerns expressed by some students about feelings of isolation over the last six months.
In-person instruction is set to resume at high schools on October 13. But many students and teachers began wondering if the proposed 50-50 hybrid model approved by the school board on September 2 is really an improvement over virtual classes.
Orange County's COVID cases have declined into the "red zone" on California's new Blueprint for a Safer Economy, leading to the Sept. 2 decision to reopen schools. However, it would mean coming back to school in a hybrid model and establishing strict safety regulations to ensure the protection of students and staff.
The hybrid models under consideration have each Monday as a virtual session, similar to the present online learning format. Tuesday through Friday would be block days —  with only half of the class attending.
Tuesday could be 1,3,5 (navy track), and Wednesday could be 1,3,5 (gold track). Thursday and Friday follow the same gold and navy tracks but for periods 2,4,6. Other combinations are possible, for example the week's block days could begin with 2,4,6 instead. Each site has some control over the final schedule.
Those who see some merit in the plan believe online learning is not 100% sufficient in regards to class discussions and conducting labs and experiments. The hybrid model would provide more of an interactive learning experience that is not as attainable via Zoom and Google Meet.
"Online learning just does not translate to the actual acquisition of skills in pipetting, making solutions, separating DNA and proteins, processing crime scenes," said biotechnology and forensic science teacher Debra Miyamoto.
But to make matters more complicated, a certain number of students who have chosen 100% online learning are mixed into all class rosters.
"From my understanding, I will be teaching classes all day and at the same time teaching the 100% online students. I will do everything I can to address the needs of all my students but I'm having difficulty envisioning how that will work," said Miyamoto. 
Other teachers and students are also uncertain as to how they will effectively provide online instruction for these students if they themselves are going to be in the classroom four days a week in live in-person instruction.
"I just don't understand why we are coming back on to campus for half of the instructional time when we could go 100% online and get all of the instructional time and keep students and staff safe," said Robert Lynde, AP Art History and AP Euro instructor.
"After my AP Psych teacher told me about how the hybrid option would go, it didn't [make] much sense to me. I personally really like my comfy chair, and the safety of my room. If you're going to be sitting on a computer all day, might as well do it from your house where there is no need for masks and social distancing," said senior Emily Sakai.
The number of interactions with teachers is reduced by the plan because each student meets with their teacher only once per week in-person in order to maintain a reduced number of people in a room. The teacher would possibly repeat the in-person lesson up to 10 times in a week, if for example they taught the same subject for 5 periods.
"Movement into the hybrid bell schedule in person learning results in a reduction of instructional time with the teacher…The transition to in-person hybrid model results in the loss of approximately 90 minutes of teacher instruction per class weekly or 540 minutes weekly for a student taking 6 courses," according to the CUSD Board Report.
Additionally, the hybrid plan introduces a host of safety protocols that must be taken during passing periods, break, and lunch in order to ensure safety.
"The current CUSD guidelines require all students on campus to wear a mask unless they have a documented health issue," said Assistant Principal, Darrin Jindra. "Students will have their temperature taken with a contactless thermometer at the start of the school day."
As part of its reopening plan, the Board also approved a set of discipline procedures (see p.44) to deal with students who do not follow the mandatory mask wearing rule.
The process of physically getting students to classrooms across campus requires more time, and that would be achieved by removing tutorial and lengthening passing periods to more than 20 minutes (plus a 6 minute break). Block periods would be longer at 110 minutes instead of 103. Teachers would also spray desks with a virucide called "Morning Mist" between classes."The protocols for return are going to be extremely regimented with systems put in place for students being admitted into and dismissed from class one by one, classes having to be dismissed in a staggered fashion so that only single file line of students spread six feet apart from each other won't overcowd the hallways in buildings such as J and H, stairs designated for ascending and descending, students using the restrooms one at a time to avoid crowding in the restroom with a designated line outside with markers for students to stand on when they wait, and assigned locations and spaces for students to eat at lunch," Lynde said.
Within the classrooms, students would be seated six feet apart to adhere to CDC social distancing guidelines. Teachers would be required to be at their desks behind plastic shields, already purchased by CUSD. There would be no exchanging of papers between students and teachers, meaning that assignments would still remain online via Canvas to reach all students. Students would need to bring a device to school. Those unable to do this would receive a chromebook distributed by the school.  
According to Principal Manoj Mahindrakar, students may choose online learning at any time, but due to extensive class sizes, there will be a point when the student capacity is capped.
The number of students requesting to remain online has gone up recently, said Mahindrakar.
"It's gone up. Not drastically, but it's gone up," he told The Express.
The restriction of online class sizes is beneficial to both the teachers and students to ensure that teachers are not overloaded with work and students have a more one-on-one experience with their teachers.
Students can only opt in for the 50-50 hybrid at the six week grading period or the semester interval. Due to social distancing guidelines, class sizes must be limited for the safety of students and teachers.