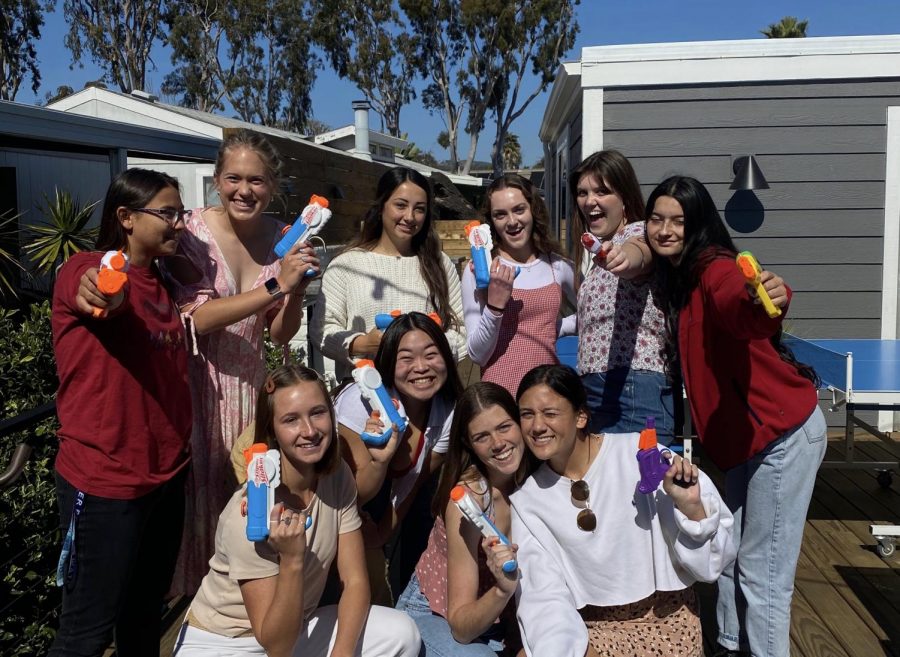 Riley Goodfellow
The 2020 Senior Assassins Game is officially cancelled due to the COVID-19 crisis. Although this is another devastating hit for the class of 2020, seniors were determined to make the best out of the situation, and together decided to donate $1080, raised through the game, to the COVID-19 Solidarity Response Fund.
Senior Assassins is completely separate from SJHHS ASB, and this year the game was run by two seniors Brooke Delorenzo and Ariana Quinonez. Seniors are randomly assigned a "target," and have to shoot them with a small water gun. If they succeed they get their "kill's" target, and the game goes on. 
Every participant has to pay $5 to play, and usually at the end 75% of the money goes towards the assassin with the most kills, and 25% goes to the assassin who survives the longest. 
"We were throwing ideas back and forth for a while, but we figured since no one should be leaving their house and people should be practicing social distancing, we decided that now would be a good time to call it," said Quinonez. 
Since the Senior Assassins game has never been cancelled like this before, Delorenzo and Quinonez were unsure as to what to do with the money. 
"My dad actually brought up the idea of looking into donating it to a charity. Then, Ariana and I were on Facetime with a couple of our friends a few days later and someone else brought it up and said 'you should really consider donating it to help those in need during this time,' and we both really looked into it," said Delorenzo. 
Delorenzo and Quinonez wanted to make sure the rest of the class had a say in what was happening with the money from the game, so they held a vote through the Senior Assassins Instagram account, asking whether the money should be split among the players still in the game or be donated. The response was almost unanimous: the class was enthusiastic about donating the money to COVID-19 relief. 
The Solidarity Response Fund is an initiative launched by the World Health Organization to raise money to help countries across the world fight COVID-19. This fund is the first of its kind, and allows for institutions and individuals all around the world to contribute to the effort to fight the virus. 
Money raised by the fund will go towards enabling all countries to respond to the pandemic. Countries deemed the most at risk, with lower quality healthcare systems, will also receive special attention. The WHO is also looking to finance medical equipment for hospitals, furnish diagnostic labs, improve data collection, establish and maintain intensive care units and accelerate research into vaccines and treatments. 
"The money that we raised through the game was $1060, but we had a participant DM us asking if he could add money to the donation, so we are going to be donating $1080 to the Solidarity Response Fund," said Quinonez. 
While it was upsetting to cut the game short, Quinonez, Delorenzo, and the rest of the senior class had a fun time playing while it lasted. 
"[My favorite part was] just to see everyone else's excitement around the game. There were a lot of people planning, and you could tell people were really determined and out there talking to new people and that was really fun for us to watch," said Quinonez. 
It was just as fun for Delorenzo and Quinonez to facilitate as it was for everyone in the class to play, and they enjoyed seeing people try to figure out who their assassins were. 
"I think my favorite part was just watching everybody guess who had them and start making a list, when of course Arianna and I knew who had everybody, and some of the peoples' assumptions of who had them were completely wrong and it was really funny," said Delorenzo.
Despite this unconventional end to senior year and sad end to Senior Assassins, the class of 2020 was able to create a silver lining by donating over $1000 in SJHHS' name. 
"I am honestly just really proud of all of us for being able to come together during this time and actually do something that's really nice. There are a lot of people that are physically being affected by this, but I think class-wise the class of 2020 everywhere just kinda got robbed by this and a lot of things are still up in the air and are still questionable," said Delorenzo. 
Throughout these hard times the senior class, as well as the greater Stallion community, have been able to remain generous, unified and kind. No matter what happens, the SJHHS community is hopeful that everyone will come out stronger. 
"Even though we're all struggling here, we are a really unified class, we all treat each other like we've known each other for years even if we haven't and I think we do a lot for each other and we don't even realize so I'm glad that we all have the energy to come together," said Quinonez. 
To donate to the Solidarity Response Fund click here or contact [email protected]
Below is a slideshow of photos seniors submitted from some of their favorite moments of the game: