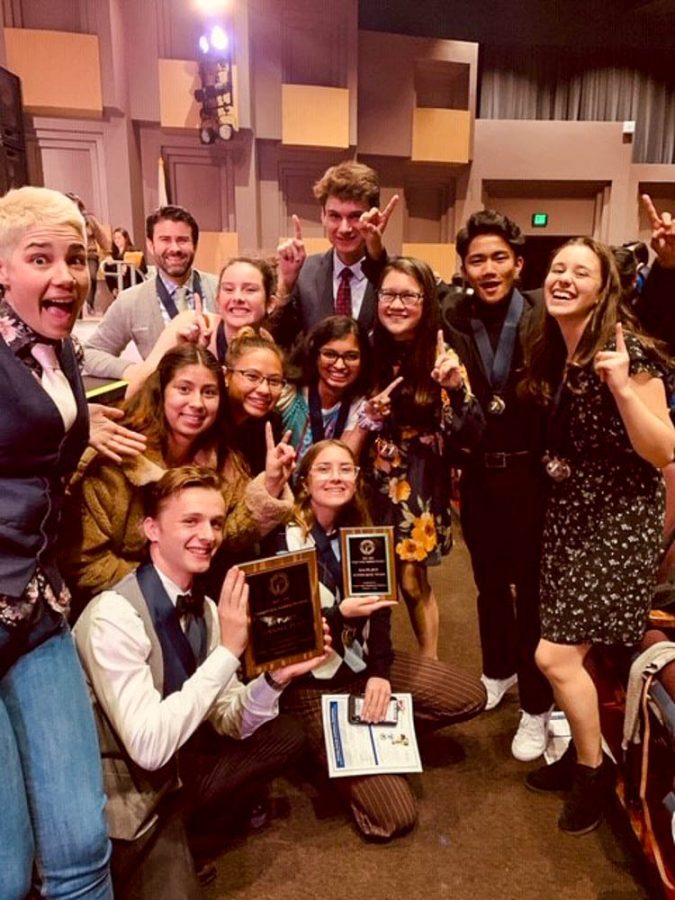 Courtesy of Danielle Serio
The Academic Decathlon team took home 25 individual medals, fourth place in Super Quiz and won first place in their division for the first time in the history of the team. 
The Orange County Academic Decathlon competition took place on January 25 and February 1, where the team competed in 7 subject tests covering the topics: Math, Music, Language and Literature, Art, Social Science, Science and Economics. In addition, they did a prepared and impromptu speech, an interview and an essay. 
"As team captain, I think my team did fantastic. We got first place in our entire division, and we're only about 5,000-6,000 points, which is only a few questions per test, off of state next year. So I think we're definitely improving a lot every year, and I like to see that," said team captain, junior Ryan Marin. 
This year the subject tests were focused around the theme "In Sickness and In Health: An Exploration of Illness and Wellness."
"Individually, I did my best to review the key concepts, I did my best to make sure I had an idea of what I was going to see on the test. As a team, I think we did a pretty good job of reviewing the more important concepts like in math… and reviewing those key concepts," said senior Kimora Farry, a two year veteran of the team. 
In addition, the team competed in Super Quiz, an event where two to three team members from each GPA category work together to answer 14 questions spanning all 7 subjects on the fly. 
The team scored a total of 34,461.7 points which allowed them to win first place in Division II, and seventh place overall in Orange County. At the awards ceremony on Friday, the team was awarded 25 individual medals across all the categories.
"My favorite memory is definitely just hanging out with the team after competitions… It's just a lot of fun, and it's good to have a good, safe drive home after competition," said Marin.
With their scoring this year, and the winning of their Division, it is likely the team will be moved up to Division I. This increases the option of the team going to State in coming years, and they will be competing against teams such as Woodbridge and other top contenders. 
"Next year for the team I would like to see another big leap in terms of improvement. I feel like since the McNeil administration[previous captain] left, we've definitely improved a lot because of the sort of rigor that we've taken, and how serious we've taken it, and I'd like to see that continue next year and potentially make state, if not further," said Marin. 
"It's been a great experience, and it's definitely not what I expected when I first started," said Farry.