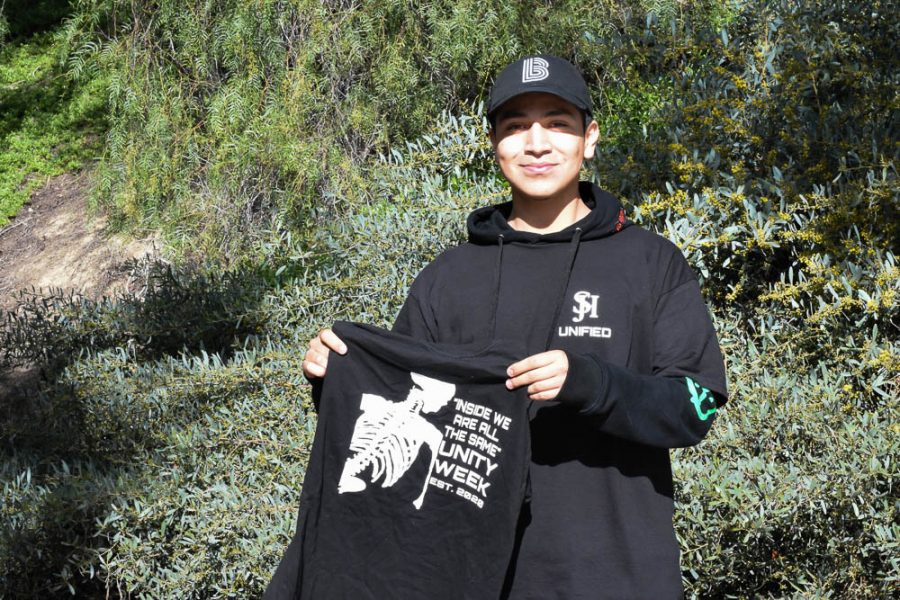 Sandhya Ganesan
Students in the DIRHA program are curating a week of activities highlighting how we are different, but how sensitivity to those differences can make SJHHS more unified.
DIRHA stands for Diversity Inclusion and Racial Healing Ambassadors and the event is called Unity Week.
"I had this vision for Unity Week for a very long time, and I have spent countless hours trying to make sure this project flows smoothly as possible," said senior Jeffery Tobar, a member of DIRHA and one of the directors of this project. 
Tobar believes the most unique thing about Unity Week is how it brought people together to invest time in something he believes will be beneficial to the student body. 
"It started with an idea, to a group of students, to a club, to administration and staff, and now half of the school. Unity Week will bring light and hope to many folks. SJHHS will be a great representation of tackling challenges based on a false human hierarchy," said Tobar.  
DIHRA has been meticulously planning the week over the past months. It is specifically designed to address SJHHS' campus, which is unique in its blend of ethnicities, cultures, and sexual identities, as demonstrated by a school survey DIRHA conducted last year.
"We attended monthly seminars from which we learn about different social issues. Our task as ambassadors was to create a project based on data that we collected from surveys on our campus. From that data we were able to see what challenges needed to be addressed. After heavy weeks of planning and discussion, Unity Week was designed," said Tobar. 
DIRHA collaborated with the Kindness Club, BRIDGES, Latinx, CHIRLA, the Queer Alliance club, and ASB to make this a successful and campus wide event. 
BRIDGES, a club sponsored by OC Human Relations, will be launching their" If You Only Knew Me Campaign", which will be featured in locker rooms all around the school. 
While this is the first time Unity Week is occuring at SJHHS, DIRHA member Uzziel Sanchez wants to make it an annual event.
"What  makes it stand out from other events at school is that it's new and not something all students know or have experience, as well as being something that is applicable to all students. I believe we can all agree that our school climate is very welcoming, but there's no harm in making it even more welcoming. It's also a way for students to get to know misconceptions about each other's identity," said Sanchez. 
Not only DIRHA has contributed to this, but the art department has as well. Ms. Arman, with the help of her art students is doing another gallery in the E Building locker rooms highlighting the diverse identities on campus. She has also enlisted the help of Ms. Finman and Fermin's ELD classes, and Pérez Sánchez and Villaba's Spanish for Spanish Speakers classes. 
"I believe that Unity Week will create a safe space for self expression and reduce the feeling of needing to change who you are just so you could fit in. Slowly but surely, I believe that we all will appreciate and love each other for who we are. United we stand taller," said Tobar. 
Each day will feature a certain aspect of identity, and seminars will be held at lunch each day.For those that go to all four seminars, they will receive a certificate commending them for their dedication, and certifying them in their training. 
Monday's focus is about race and ethnicity, and features three different speakers. Among these speakers is Alex Serna.  Serna is the director of Breakthrough San Juan, a program that is designed to break the cycle of poverty through the power of education by supporting first generation students at all academic levels. 
"As an educator today, I have come to see the importance of understanding how race and class shape our lives. It's important to see beyond what we take as normal, using a racial lens to analyze moments in our lives or think about how we navigate the world today and into the future," said Serna.
"I went from elementary school through high school never thinking about my class, race or gender. It wasn't until college that I began to see myself from the eyes of others and the world around me," said Serna
Serna had only known the life of the working class his entire life. Bus rides and his family's 1993 Blue Econoline van were the primary source of transportation, second hand clothes were always the norm, with the occasional new shirt from Tilly's. His life had seemed completely normal to him, because he knew nothing else. 
Serna has an important message to tell, and hopes to impress this upon his audience, for it was something he did not realize the magnitude of until later.  
"I had just dropped off my girlfriend. We were 17 and had just started dating. As I pulled away in my silver dodge ram, a gold truck driving on the opposite side of the street suddenly came across the median and stopped right in front of me. A man in blue jeans and a flannel shirt came out and drew his gun. At the same time, a white van that was parked behind me on the other side of the street blocked me in. Another man, came up to my window tapped on it and asked me to slowly take the keys out of my ignition and open the door. I was pulled out immediately. Handcuffed. I sat on the curb, while they searched the truck and ran my I.D. 'Ok, you're free to go, the cop exclaimed. 'Wait, what's this all about?' I asked. 'You matched the description of someone we were looking for,' he responded. I got in my truck and drove away," said Serna. 
Serna thought nothing of this occurrence, and simply wrote it off as a mistaken identity. While reading about the criminal justice system, race and racism at UC Berkeley, he finally realized what happened to him. 
"It wasn't just mistaken identity, it was an entire history of policing in low-income communities and a criminal justice system that disproportionately impacted African American and Latinx men. With that new knowledge, it wasn't just normal that I was stopped at gunpoint, handcuffed and searched," said Serna. 
Serna is hoping to falsify the normalcy that people place on predictive policing based on race. 
"I hope that students take away a more nuanced view of the world around them. And, in doing so a more nuanced view of themselves. Myself and two of our staff members were invited to speak and we're excited to share our personal experiences, along with tools for students to see themselves within the world more clearly," said Serna. 
Tuesday's focus is all about immigration, and has one featured speaker.  Robert Herrera, who works with Resilience Orange County will speaking aout his perspective on immigration. In addition, CHIRLA will be sponsoring the day with an informational booth set up. CHIRLA stands for Coalition for Human Immigrant Rights Los Angeles.  
Resilience Orange County is a group designed to reform and create institutions that aid youth development. They work with organizations affiliated with youth centered social justice and restorative justice. Resilience Orange County deals heavily with youth's role in immigration and the social justice, or injustice around the issue. 
Wednesday is about gender identity and sexuality, and is sponsored by the Queer Alliance club with Ms. Serio, the QA advisor, as a speaker. Serio has just finished her masters on LGBTQ+ student help and intervention. She has taken a lot of interest in what teachers could be doing in their classrooms on a daily basis to be more welcoming and accommodating towards LGBTQ+ students, and increase empathy from non LGBTQ+ students.  
Thursday will focus on religion, and has a variety of different speakers with different ways of worship. Among these speakers is senior Lian Zhu, who is a Pure Land Buddhist. 
"I plan to inform other people what my religion is all about, where it originated, Buddhist teachings, how and where people pray and recite mantras, our code of conduct, etc. Buddhism is a religion that people sometimes have misconceptions about, I'm hoping to educate others more about the topic so the religion is more understood by other cultures," said Zhu. 
"Unity week exists to bring attention to the idea of diversity and other cultures and shine it in a positive way. And that's one of the biggest reasons why I chose to participate in unity week," said Zhu.
The week will conclude with a campus-wide hacky-sack tournament in the lower quad during. 
Sanchez has invested a lot of time into this week, along with his peers and truly hopes SJHHS students gain an important lesson from it. 
"I'm the kind of guy who wants to see everyone smiling and be their best person, so being able to lead such a big event excites me because it tells you a lot about your character. If you're interested in attending our events, it'll show that you care about being kind to each other and that you want to make progress in making your school welcoming to students who may feel targeted or afraid of being who they are," said Sanchez.