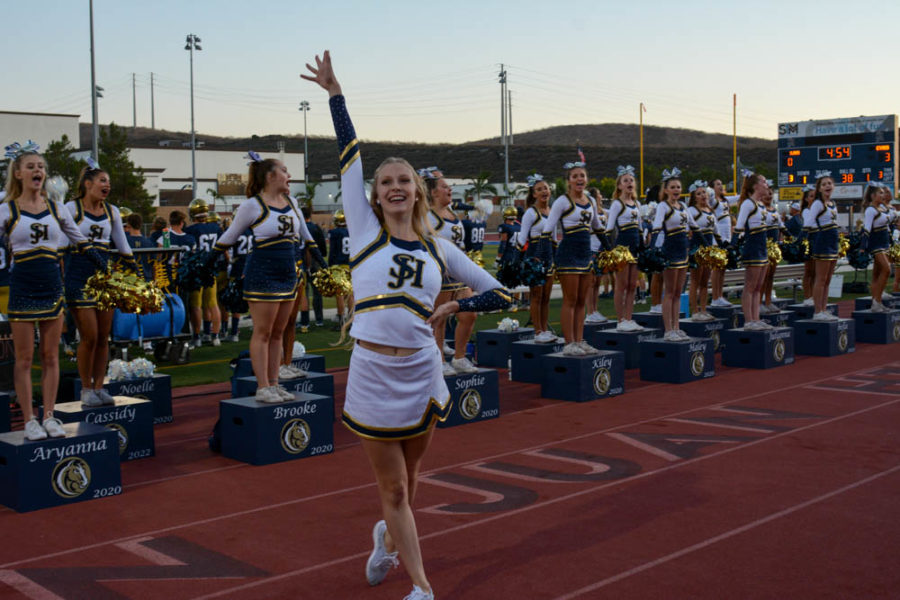 Ella Villar
A new song team will be added to the SJHHS pep squad this year, as a result of a petition made by senior Kayley Lafreniere.
The Pep Squad has previously been comprised of JV Cheer led by Taylor Magro and Varsity cheer led by Kelly Glidden. The song team will be coached by Hayley Reyes.
"The main difference between song and cheer is that song is more dance focused while cheer is more acrobatic focused. Both teams are a part of the pep squad and participate in school spirit events," said sophomore song member, Cali Mccanna. 
The team was created to allow dancers who were also interested in performing at games the opportunity. Because it was created with this intent, the team will not have showcases like dance, but will be performing in most everything spirit related. 
"The song team is a separate program from the Dance Team all together, however many people, including myself, are apart of both. Our team is like the cheer team, however instead of stunting and tumbling we dance," said Hailey Flowers, co-captain of the team.
While there was a lot of demand for song, a lot of the members are still heavily involved in dance production. Some of these leaders are herself, Mccana, and senior Zachary Rothman. 
The team didn't hold many  practices outside of school, so the first football game was one of  the first chances for members to dance alongside their partners. 
 "Our first performance went well and better than expected from all. The concept of song was foreign to almost all the song leaders but we managed to present the best versions of what we learned for the first game. It only goes up from here," Mccana said.