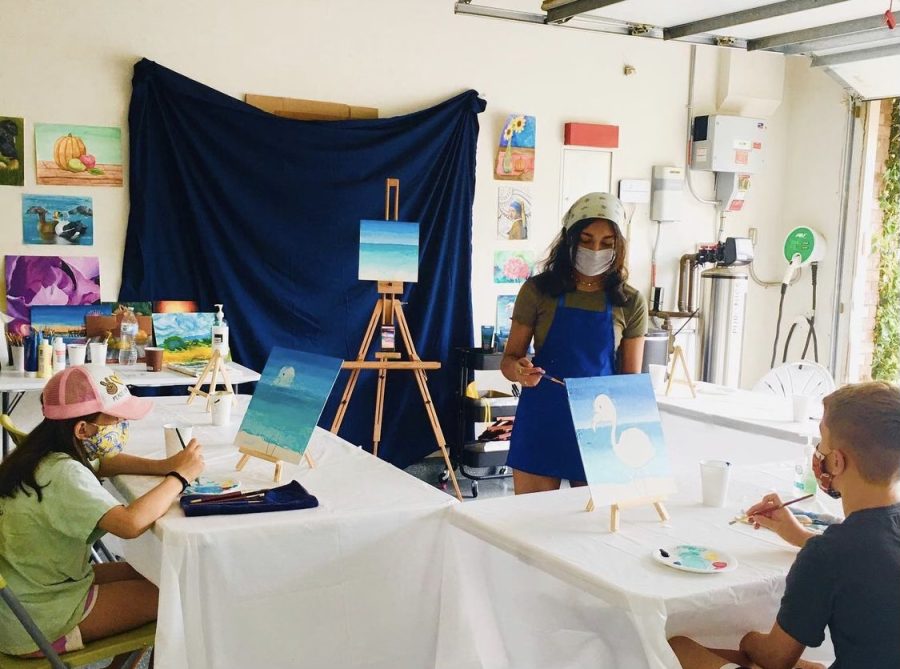 Photo Courtesy of Nikita Karande
Painting is a form of art and expression, but also for many a creative coping mechanism. This is what inspired sophomore Nikita Karande to start her nonprofit organization "Art of Healing," in hopes of offering an emotional outlet to others.
Finding expression through different mediums has always been a passion for Karande, who has used her artistic talents to cope with her personal struggles.
"When I was at some down parts of my life, I used art as an outlet to help me have that emotional release. It's something that I think could help a lot of people," says Karande. "Art is one of the only things that stands out to me as far as my interests, and I wanted to turn my own passions into a mission statement."
Karande used previous experiences from art lessons and volunteer work with younger classes at the art studio she attends to help create her nonprofit. Over the past summer, she decided to continue her teaching experience and host lessons for kids independently.
"I found that I really like working around kids, so I thought it would be good to incorporate that with my love of art. This is why a lot of the fundraisers we do focus on events for kids" says Karande.
Once she had the basis for her organization, Karande began to work on setting up the platform and reaching out to get publicity and connections.
"I've just been trying to talk to a lot of people, especially if they are part of associations where I could also help out."
At this point in the program, the main focus is on fundraising for supplies through events and lessons. In the long term, Karande hopes to use any funding raised to reach out to lower-income schools and shelters to provide access to art supplies and mediums.
There has been a learning curve in setting up the organization for Karande, especially while balancing regular school work, but she feels that her mission is worth the effort and all it can accomplish.
As the program grows in size, Kanrande hopes to host larger events and is open to offering volunteer hours to students who share a background with the arts and want to contribute to the program. Individuals interested can contact "Art of Healing" on their Instagram @art_of_healing25.
What started out as a passion for art and some fun summer lessons became a project which Karande hopes will grow and expand to be a program that will benefit those in need and bring awareness to the use of art as a safe space.
"This is such a great outlet for kids to express their creativity and hopefully the big goal is making an impact in my community"