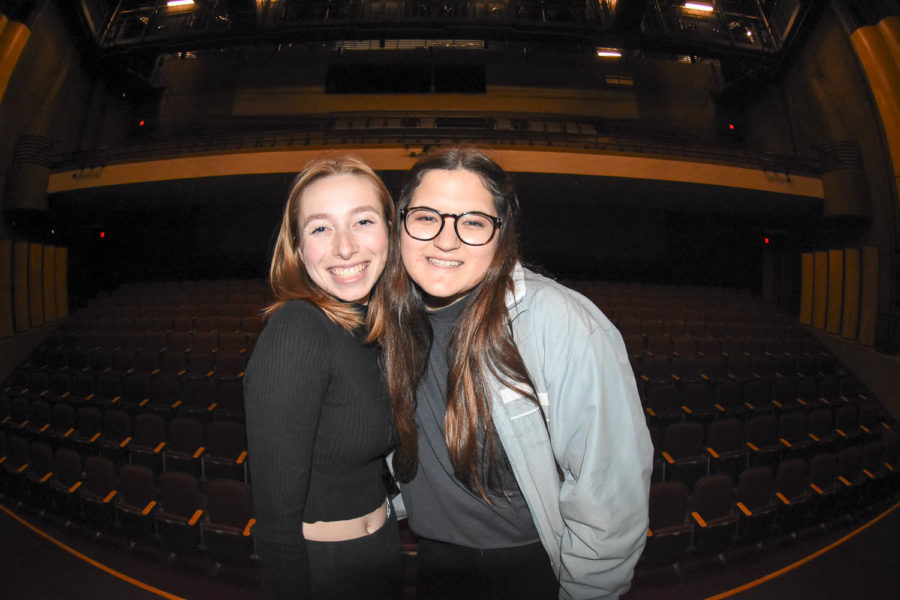 Lucy Law
Olivia Price and Sierra Young are the first SJHHS students to be accepted to the Carnegie Mellon University's production and design program, the best technical theater program in the country. The acceptance rate for the program is 4%.
"It's pretty well known in the theater community, so I was going to apply there no matter what. And then I was looking at the top rankings for my major and it was number one so I applied," said Young.
Both Young and Price were accepted at their interview, which is very rare.
"They sent us out, and then I was walking down the hallway and they kind of pulled me in and said 'we have one more thing to ask you' and I said 'yeah sure,' thinking it was going to be about my grades or something, and they just told me that they wanted to admit me. It was really cool. They don't do that at all, rarely ever, and they did it with both of us," said Price.
Young and Price have been interested in producing shows since their freshman year. They both have had instrumental roles in producing many of the shows at SJHHS.
"I do alot of our set design…I set designed the Drowsy Chaperone, Les Mis, Front, Little Women and currently i'm doing You Can't Take It With You and Kiss Me Kate," said Young.
Price has done the lighting design for 15 shows with the Stallion Theater Company. "I started technical theater my freshman year, and I just got really into it. I started moving up the ladder right away, and I found myself in lighting design, which is by far my favorite…Kiss Me Kate will be my 19th show, and I've probably designed 15 or 16. I just love what I do and I get to do it all the time," said Price.
Over President's weekend, Young and Price went to Michigan and Pennsylvania to visit schools. They toured and interviewed for University of Michigan, then drove to Ohio, then Pittsburg to visit Carnegie Mellon University.
"We went to Carnegie Mellon, and we just had a day where they let us sit in on all their tech. The lady who accepted us in LA showed us around. It was fun," said Young about the trip.
About CMU, Price said, "the campus is gorgeous. It's in Pittsburgh and there's city and it's so pretty. For the program specifically, you can just tell how much the students care. You walk into a room and they light up. They love to be there and they just have really advanced technology and you really can tell that the faculty and students love being there and they love working."
"I really like their curriculum. I also like how they let both undergraduate and graduate students design, which is kind of rare for a school with a masters program. They have really nice facilities, three theaters and a really nice faculty," said Young.
Price's first choice is CMU, but if financial aid doesn't work out she is also excited about University of Michigan and the University of North Carolina School of the Arts, the second and third school for technical theater respectively.
"I'm really excited to commit, just knowing I'm into the best school I can get into is really exciting. I am waiting on financial aid right now because Carnegie Mellon is a pricey school to attend, but if they gave me the right scholarship it's definitely Carnegie Mellon," said Price.
Young is in a very similar situation. "My top three are UNCSA, University of Michigan, and Carnegie Mellon. If I get enough money I'll probably end up going to Carnegie Mellon," said Young. Both got into the top three schools for their majors, so no matter where they go they will be attending some of the best schools in the country.
Ultimately, the girls are excited about their futures and committing to the schools they will end up attending.
"I'm just so excited for the future. I'm so happy Sierra and I get to go to school, hopefully together, because it's just exciting that we get to explore the next couple years together," Price said.