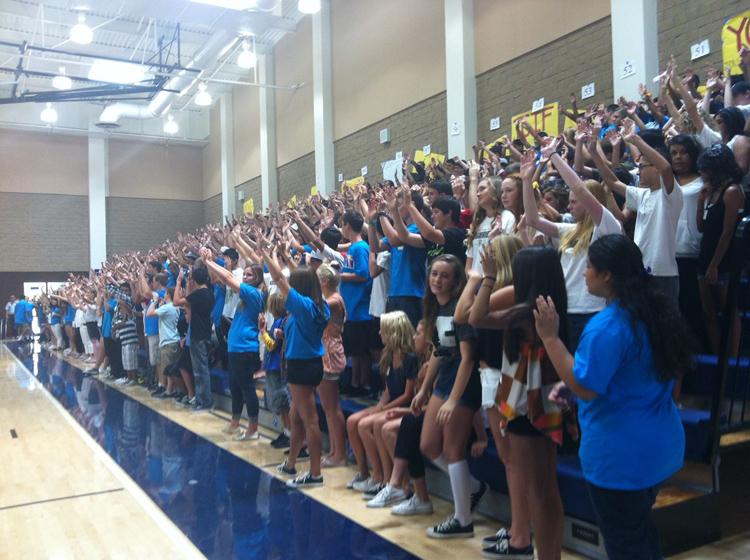 Being a freshmen in high school can sometimes feel like you're in a foreign land. But one program, Link Crew, seeks to familiarize incoming freshman to ins and outs of being a high school student.
Before school started, Link Crew leaders took time out to meet the freshmen. Over 500 freshmen attended the orientation.
The leaders act as their very own private guides. Link Crew is a program designed to
According to Link Crew Coordinator, Ryan Schreiber, the goal of Link Crew program is to, "Have freshmen feel comfortable on campus, feel like they're a part of the school culture." The freshmen students are mentored by the upperclassmen at SJHHSl.
After all, who's in a better position to tell the incoming class about the high school experience than those who have recently lived it? According to Ms. Stanga, the Link Crew Coordinator, "Juniors and seniors go through a training to mentor freshman".
After leaders were trained they helped the incoming freshmen by giving them "a tour of the school and hanging with them during lunch." In the future Link Crew will have events called social follow ups which help the freshmen socialize with their leaders.
Student mentors also check with incoming freshmen throughout the school year to see how they are adjusting to high school.
Ms. Stanga is a firm believer in the program and its benefits for the school.
"I believe in what it does and believe bringing it to this school can benefit our school climate." Ms. Stanga also likes to point out that the ultimate aim of the Link Program is to assist freshmen students.
Juniors and Seniors who participate in this program serve as guide throughout the year to the freshmen. For Link Leaders this also looks good on resumes.
Andrea Gonzalez a senior link crew leader describes what she enjoys about the program. "What I like about Link Crew is I get to help freshmen out with their first year of high school, because I didn't have any help my freshman year and its nice to have someone there to support you."
Throughout the year, the Link Crew Program will hold activities called social follow ups. The main purpose of the program is to keep Link Crew leaders and their freshman in touch.
Interested students, both incoming freshman and those interested in becoming Link Crew leaders are invited to contact Ms. Stanga in her room H110.