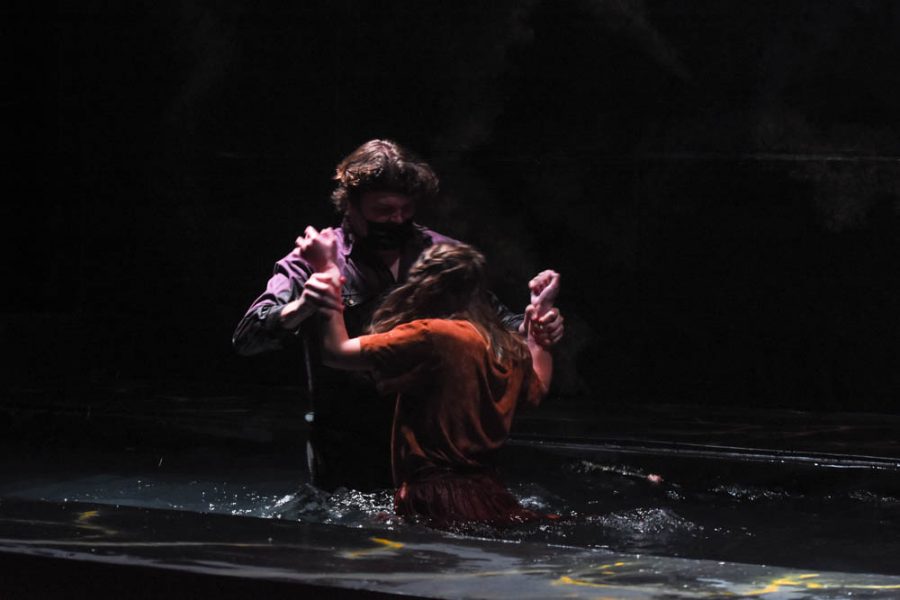 Photo by Cooper Aitken
From opening to closing night, the production of "Metamorphoses" produced by the Stallion Theatre Company has been a monumental success with immersive storytelling of ancient Greek myths, brought to life by a talented cast and crew.
However, perhaps the most exciting moment for all involved was the announcement of the production placing first in the state for the California Educational Theatre Association (CETA).
CETA is an organization that sets theatrical standards for schools across California and offers opportunities to student theatre departments, from theatre assistance to awards and scholarships in recognition of exceptional work.
Schools all across the state have their shows judged based on production as a whole, and the winning school performs at the High School Theatre Festival, which will take place in January 2022, and will be hosted by Los Osos High School in Rancho Cucamonga.
This award is a tremendous achievement for San Juan Hills, as the SJHHS Theatre Company has come in third and fourth place for the past four years, performing the last 10 minutes of their third placing shows at the festival, but had yet to win first place.
Such success is well deserved as many hours of labor were put in by everyone involved. The cast consisted of the Actor's Repertory, the highest level of drama offered at the school. Each actor displayed their talents through stunning displays of violence, emotion, and drama in the multiple Greek tales.
Additionally, the entire crew and set design worked tirelessly to create the immersive scenes, a highlighting aspect being the twenty by eight-foot pool of water used throughout the play.
The pool was built after set designers Jaidyn Fox and CJ Verrengia decided that it would be a great addition to the writing and original script of the play. This was a huge undertaking, but after hours of dedicated work from the Stagecraft crew, the end product was a masterfully built body of water where actors would have fight scenes, professions of love, and dramatic deaths.
With the addition of a body of water on set, lighting was used in a way that utilized reflections and added drama to the movement of each character. These individual aspects all came together to create a gorgeous and artistic interpretation of these ancient myths, and the production in total has become a crowning achievement for the entire department.
In preparation for the festival in January, the crew has to plan to move all aspects of the production to the performance site in Rancho Cucamonga, which presents a challenge with the pool and other various parts of the set. There is even the possibility of leaving the pool without water for the performance to better accommodate the transportation and setup.
For the time being, however, the crew and cast celebrate their incredible achievement for the department and school as a whole.