Theater Department Faces Multiple Setbacks From Pandemic
Ever since the pandemic sunk the Stallion Theater Company's production of Titanic, they seemed to encounter setback after setback.
Their latest production, A Gentleman's Guide to Love and Murder, ignited a new spark in the department and created a beacon of hope for the cast and crew– only to get delayed.
"We're used to doing five shows a year and we are used to a really strict schedule and usually [on campus] til crazy hours of the night almost the entire year," said senior Austin Zielenbach. "I think the whole department has really felt the absence of the shows this year."
The department is known for committing their entire lives to the productions, so the combination of online performances, social distancing, and the absence of rehearsals and tech week has created a drastic change in the lifestyles of theatre students.
"The constant delays– the shows being close to ready for something to happen and they have to delay it again, so we kind of get our hopes up," said senior Michael Liebig. "Especially with the last show, we were at the literal opening week and we had to delay it again because of circumstances we can't control."
At the end of last year, the department was planning on performing Titanic as their spring musical. "We hadn't done a show like [Titanic] since Les Mis," said Zielenbach. "It is such an ensemble based show which we haven't done and those are the kinds of shows that brings the community together." Unfortunately, because of the shut down of schools, the show was cancelled and production was halted, leaving everyone involved disappointed.
"It would have been different if Kiss Me Kate had been closed," said Zielenbach. "The cast had gotten together that Friday the 13th and watched Titanic, so if we hadn't watched it, [the let down of the cancellation] would have been different."
Liebig also felt disappointed because of the ambition invested in the show. They had planned for a hydraulic element in the set design with a moving ramp. The thought of such an elaborate design excited the cast, but unfortunately they never got to try it out.
"The spring musical is something everyone looks forward to, and let me tell you- they were PHENOMENAL. We were working so hard: the actors, the technicians, the staff, and the orchestra. Overall we had over 100 students involved and it got pulled right out from under us," said Theater Director Cambria Graff.
"When you postpone things, it gets expensive- and at the time the royalty companies that give us permissions to do the show were not prepared for things like streaming because it had never been done before- so the only choice was to cancel," said Graff. "Ultimately, we felt it the right decision to mourn the loss and move forward. I never like to do anything that disappoints my students- I do what I do FOR them- so often I feel like I have their hearts in my hands, that's a lot of responsibility."
"
It felt really good to think that we could go through the worst circumstances that we could and still make something out of it."
— Michael Liebig
The uncertainties of the shutdown left some seniors believing that they might have had their last show, which had such an impact because of how much time and energy they invest in the department. "Once it hit I thought, 'Oh my gosh, Newsies could have been my last high school show ever'. Especially me coming in as a sophomore, I only got to perform on the big stage three times and just thinking about that is so weird to me because it feels like I've been here forever, but I'll only be able to do a normal show three times," said Liebig.
"During the week it was supposed to be opening night, [the impact of the cancellation] hit me," said Zielenbach. "I was going to the grocery store with my mom and I was like 'I should be eating tech meals right now. Eating Chick-Fil-A with my friends and getting ready for dress rehearsal."
"Whenever shows close, obviously I'm sad because I have an attachment to them, but there was never that closure of performance. It never really ended and in some ways it still felt like we were still in 'Titanic mode'," said Zielenbach.
Even though the cancellation of Titanic left a lasting impact on the students, the new year brought a new beginning and a new outlook on the types of shows to perform.
"At the beginning of the year we have been really down. When Gentlemen's Guide started rehearsals, [the mood] started to ramp up again. It was the closest thing we got to a production environment," said Zielenbach. "Tech week for me felt like real theater again. It felt like comradery because community is a big deal and it felt like we were getting back into our community."
"I feel extremely fortunate to have the students I have. They are go getters. So many of my theatre teacher friends talk about apathy and how their students are pulling away. Mine are not doing that. They seem to be making the most of what we can do, and rising to the challenge of creating art in the world that we are being handed," said Graff.
The year started with an all-online performance which was different and new, but with more restrictions being lifted, they planned to perform a winter musical in person, outside, and distanced. When tech week began, everything started to look up, but another setback was thrown their way and the show ended up getting pushed back and rescheduled.
"Artists are nothing if not strong, determined, and great problem solvers. We work on our feet and I think our adaptability and creative thinking has really helped us to solve our issues. Of course it gets frustrating at times- but we've all decided that at least we CAN, at least it's NOT Titanic. We still get to do it- and we all know what it feels like to not be able to- and so all the little bumps along the way ultimately don't matter," said Graff.
"
It was so frustrating that not even nature was on our side."
— Austin Zielenbach
Tech week was going strong until there were issues that were out of anyone's control ultimately causing the show to be rescheduled to a later month.
"That first week of tech week was crazy. I think it was the best week that I had in COVID so far because it felt normal," said Zielenbach. "It started raining the Friday night of Tech and I was crying because I was so frustrated and it wasn't anyone's fault. It was so frustrating that not even nature was on our side."
"It feels like we've been working and working and working and so many things are getting in our way, but i kind of feel empowered," said Liebig. "It's like, if we can do this, then we can do anything."
"It's so cool how we can come together in rain and wind and have the orchestra still be a part of it and all the tech people and lighting being outside and still somehow make some sort of show. It felt really good to think that we could go through the worst circumstances that we could and still make something out of it," said Liebig.
As the year remains uncertain, the department still has hope for a smoother and easier experience for their Spring musical and other scheduled performances.
Leave a Comment
Your donation will support the student journalists of San Juan Hills High School. Your contribution will allow us to cover our annual website hosting costs.
About the Writer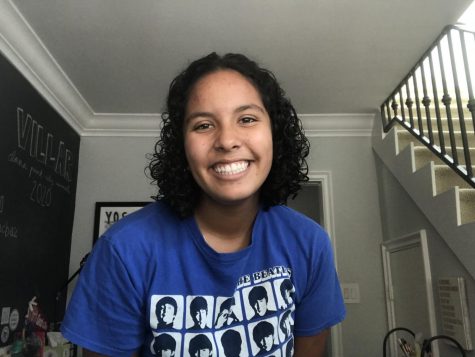 Ella Villar, Co-Editor-In-Chief
Ella Villar is a currently a senior and has been a member of The Express for three years now. As one of the Co-Editors-in-Chief, she intends to recognize...