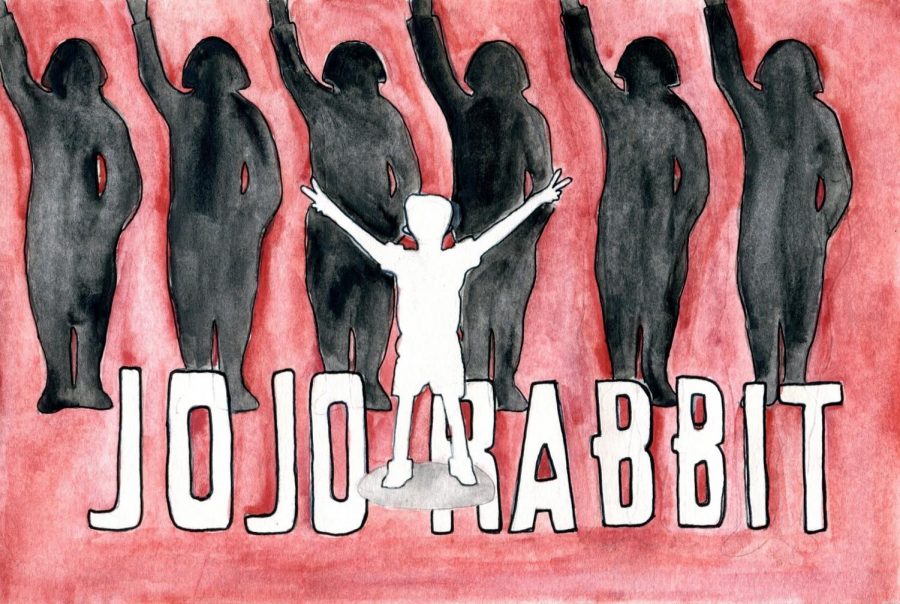 Art by Ella Villar
Jojo Rabbit, the newest film from writer-director Taika Waititi, is a hilarious and touching World War II satire. 
This was an incredibly risky follow-up to Waititi's 2017 hit, Thor: Ragnorok. The film is centered around a ten-year-old German boy named Jojo, who has an imaginary friend named Adolf Hitler. 
Jojo, who is also a member of the Hitler Youth, dreams of working personally for Hitler. One day, when returning home Jojo's hands are suddenly tied to the recent discovery that his mother is hiding a Jewish girl in the walls of their house. If he were to report the news to a German official as he had been taught to, his mother will be killed, but if he doesn't, and an official figures out his secret, he and his mother would receive the same tragic fate.
When Jojo first meets Elsa, the Jewish girl, he has ridiculous prejudices about Jewish people. At one point, Jojo even interrogates her about where her horns are. However, as the story progresses and he starts talking to her, Elsa and Jojo develop a brother-sister like relationship. Jojo soon realizes that everything he has been indoctrinated to believe is wrong.
Roman Griffin Davis, the actor playing Jojo, puts on a very convincing performance throughout the film, despite Jojo Rabbit being his first-ever acting role. Casting a first-time child actor as the star of a film with such a complicated tone definitely could have been problematic, but he undoubtedly pulls it off. He is very funny when he needs to be but also touchingly emotional in other scenes.
Scarlett Johanson is also fantastic as Jojo's single mother. The scenes between her and Roman Griffin Davis as Jojo are some of the best in the whole film. She is likely to get some deserving award recognition for this role.
The issue of the imaginary friend, Hitler, is handled very well, despite it being so controversial. Played by writer-director Waititi himself, the imaginary friend is a goofy buffoon that helps Jojo and gives him confidence. However, as the story progresses, he becomes more deranged and like the Hitler we know. This is because JoJo himself becomes less illusioned with the Nazis and starts to see Hitler for who he really is. 
The film could have easily crossed the line in dealing with such a serious subject with a comedic take. However, this movie balances its tone in a great way. The comedic moments never come off as making light of the holocaust or other massacres committed by the Nazis, because it also shows, specifically in one heartbreaking scene, just how ruthless the war and the Nazis themselves were.
Overall, Jojo Rabbit is one of the best movies I have seen all year. Beneath its absurd premise, this is a poignant film with an increasingly relevant message.