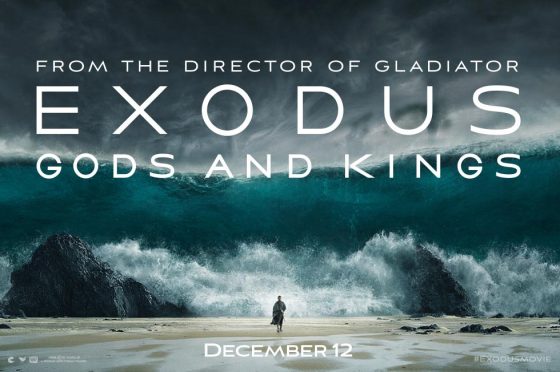 Ridley Scott is a director known for his work with pulse-pounding, suspense-inducing stories that leave people anticipating what is to come next. Among his most notable pieces are Blade Runner, Gladiator, and the Alien franchise, all of which have withstood the test of time to become classics. Unfortunately, his latest film, Exodus: Gods and Kings, does not cause audiences to wonder what comes next, but rather leaves audiences wondering what it is that happened.
Exodus's most distinguished flaws lie in its storytelling. Granted, most people are at least somewhat familiar with the story the film tells: the story of Moses, a prophet who is called by God to be His tool in liberating his people from the bonds of Egyptian slavery. But this is a film that goes about telling this story in a manner that seems to maintain the assumption that all who go to see it are well aware of the events of the story.
The plot's progression feels clunky, with sudden, considerably hefty jumps forward in time. The film also seems to lack sufficient clarification as to how or why some events take place, cutting to the chase too quickly in many instances.
This overt blemish aside, however, Exodus does feature two strong leads–Christian Bale and Joel Edgerton–who give it their all and manage to deliver substantial performances to more than compensate for a contrastingly lackluster script.
This contemporary telling of the tale of Moses is one that is told with visual grace. Brutal scenes which could previously be merely recreated in one's mind now jump out of the biblical text and inject new engaging life to the adventure, from the Egyptian monuments to the vicious plagues to the eventual parting of the Red Sea. The final act features plenty of thrilling mayhem that is sure to be well worth the wait.
Seeming to have a balanced scale of equal amounts of bland and exciting aspects, Exodus: Gods and Kings is by no means a bad film, but is not for those unfamiliar with the biblical history behind it and is not necessarily extraordinary in any way. Personally, I would wait for Redbox for this one.
That being said, it still serves as a welcome modern biblical retelling with adequate entertainment value overall and fresh new interpretations of the archaic account that still remains in societies' hearts to this day.
Story: 4.0
Acting: 7.0
Dialogue: 5.0
Visuals: 8.0
Entertainment Value: 6.0
My Rating: 6.0/10